How To Get Mould Out Of Clothing
Did the kids leave wet clothes lying around? Perhaps it was a wet towel you used and forgotten to dry it out only to find it weeks later it's covered in mould. Whatever the cause, your first thought at seeing mould on clothing may be to simply toss it in the bin.
However, as you read on, you'll notice that there are actually some simple techniques on how to get mould out of clothing in order to rescue your clothing from the rubbish tip.
What Causes Mould On Clothing and Fabrics?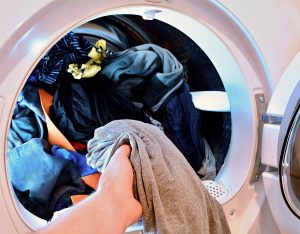 In order to understand how to remove mould from clothing, you need to know what causes it. Mould mainly develops when spores are allowed to thrive in dark, moist, or poorly ventilated areas.
It can do some real harm to delicate clothing fabrics whilst potentially leaving permanent stains as begins to eat away at the material.
Worst of all it can leave also leave an unpleasant smell.
So remember, if you do see mould on your clothing, you will want to make sure you act sooner rather than later, especially when it comes to removing mould from fabric.
To Summarise common contributing factors on finding mould on clothing:
You practice poor clothing hygiene such as leaving freshly washed clothes in the washing machine hours after completed or disregarding sweaty clothes.
You live in humid, warm environments (these also include wet winters and places that have rainy seasons).
You store clothing sealed containers in dark areas.
Have leaking plumbing issues or if your home suffers from poor ventilation
Pro Tip: Some good advice for when doing your laundry is once you've done a load, hang it out in the sun as soon as possible. Mother nature and U.V light kill most mould spores. Unfortunately, it won't get rid of any existing mould stains. Aside from drying wet laundry as soon as possible, you will also want to adopt other good practices in general, such as avoid storing clothes or fabrics in boxes for long periods of time, as this can also be another contributing factor.
Natural Mould Treatments
So you that you know some of the causes, what about learning some natural treatments for how to remove mould from clothes? Let's dive in!
Hot Water
In most circumstances, mould can't survive high temperatures, which is why hot water is effective. In fact, one of the easiest ways to remove mould is to simply wash them in a bucket of hot water or in your washing machine.
The water needs to be 60 degrees at a minimum for your wash cycle and you ideally want to set your wash for at least 30 minutes. This won't remove stains, but it will kill the mould.
Before using hot water, make sure you take these points into consideration :
Ensure that you check the care label on your clothing first to ensure that hot water is suitable with the fabric.
For effective mould removal using just hot water, clothes need to be exposed to the high temperatures for at least 10 minutes to half an hour for the wash cycle.
Baking Soda and Vinegar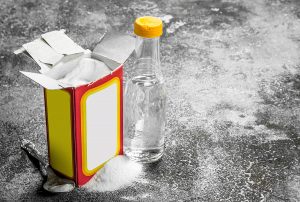 It is actually becoming quite the norm these days to use household products such as baking soda or vinegar for things other than cooking.
By mixing two parts baking soda and one part white vinegar, your vinegar baking soda will not only kill the mould, but it also works well as a stain remover. Mix this solution together and add to a load allowing to soak your items for 24 hours, then complete a wash as normal. You may consider doing a spot test prior in case it causes any discolouration.
Borax
No, not Borat, Borax! It's not something that is very common today, but a cup of borax works well as a mould killer and is water-soluble, which means you can add to any load of washing, but it may not be suitable for delicate items. This is readily available from most supermarkets.
Want to use something a little stronger?
Many detergents available may remove some minor staining, but it's unlikely that they will kill mould or mould spores.
Bleach
Another consideration for how to get mould out of clothes is to use bleach. This can be effective as a mould killer and stain remover, but be warned, as it may also cause clothing to fade. If treating something in colour, ensure you use bleach that is colour safe. Luckily there are plenty of bleaching detergents out there that you can buy to save you from mixing your own bleach with water; however, if you do decide to mix your own, always make sure you follow the label's instructions carefully in order to get have the correct concentration.
Soak clothing for half an hour and then add to a normal hot wash. Ensure that you are using bleach in a well-ventilated area, and don't mix bleach with white vinegar as it can produce dangerous gases.
Dettol
Another common household antibacterial product is Dettol, which on its own will do little to kill and remove mould, however, there are products available that have a combination of Dettol and bleach. This would be more effective and will also assist in removing the mildew smell.
Other Ways To Remove Mould From Fabric
Using a Dry Cleaner
Another excellent alternative for dealing with mould is to take your clothes to a dry cleaner.
Dry cleaning can be effective at killing mould, but can also be a more expensive option for your laundry, especially if you need to do it regularly. It is a good option if you have materials that can't be washed and need more assistance.
Be Careful, However: Some fabrics should not be dry-cleaned so make sure you check the care label.
---
How Houspect Can Help?
If you are looking at a new property in New South Wales, you may benefit from a pre-purchase building inspection.
Houspect also offers renovation inspections and new home inspections.