A few years ago, if someone said they wanted polished concrete in their home, they would have been in the vast minority. Now, it is more and more common and something that is on trend. They're easy to clean, maintain and give off quite an industrial vibe. Whilst they are becoming more and more popular, it's important to decide if polished concrete flooring is the right choice for you and your lifestyle.
We've outlined the pros and cons below, and as always, we recommend that you thoroughly research the product and the trades people you intend on using before engaging in any services.
Pros of Polished Concrete Floors
High Traffic:
Polished Concrete Floors are perfect for high traffic areas. Ensuring that they are sealed correctly, concrete floors will not crack, dent, or stain. They are very easy to maintain with regular vacuuming and mopping.
Colour Options:
You don't need to have standard concrete as your finished colour. Concrete is able to be coloured in many tones, which can be mixed through the concrete prior to pouring – but you want to ensure that enough concrete is mixed as sometimes it can be hard to match the same colour again.
A lighter finish is more common as it gives a more natural look.
Heating:
You can still have heated floors with concrete flooring, but this is usually done during a new build.
Built to Withstand:
Concrete floors are fire and flood resistant.
Restoring Shine:
Concrete floors can be rebuffed to restore their original shine if needed (but remember, this is a very dusty exercise!)
Cost:
The cost of polished concrete floors are on par with most timber floor options. They can be done when the slab is poured during a new build and existing concrete slabs can be polished. Your existing slab will need to be thick and structurally sound to be able to be polished. It's also important to know that concrete is not consistent, therefore when restoring old concrete floors, there will be imperfections along the way, but usually that is part of the wow factor of the finished product.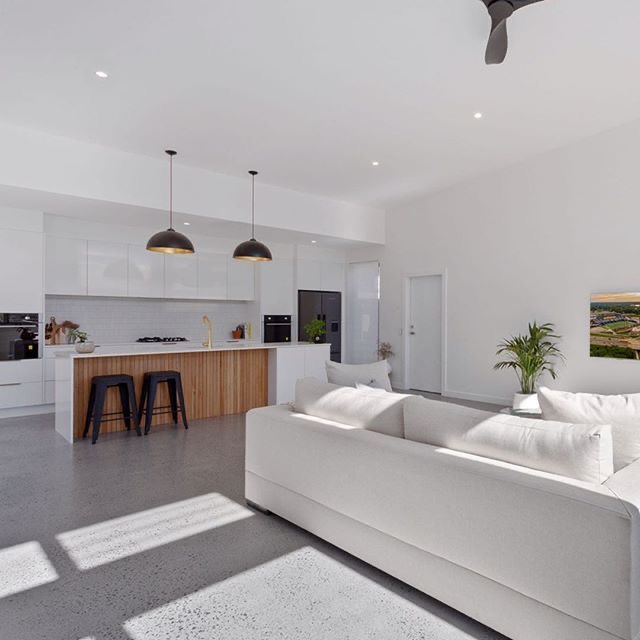 Cons of Polished Concrete Floor
Unforgiving:
Whilst concrete floors look great, they aren't the most user friendly, especially with young children. A fall on a concrete floor can give a nasty bump. It can be hard underfoot and if something was accidently dropped, such as a plate or glass, it's not going to survive.
Cracking:
No matter how well your flooring is installed and sealed, over time there will appear cracks in polished concrete floors. This isn't because there is something wrong with your floor, but because there are constant changes within the environment the floor is in. The flooring will expand and settle due to temperature and moisture.
Cold:
If your house is already lacking sun, you may want to reconsider polished concrete floors, you will definitely feel the coldness, especially in the winter months. If your budget is tight, be mindful that you may need to purchase some high-quality rugs to assist in keeping your home warm.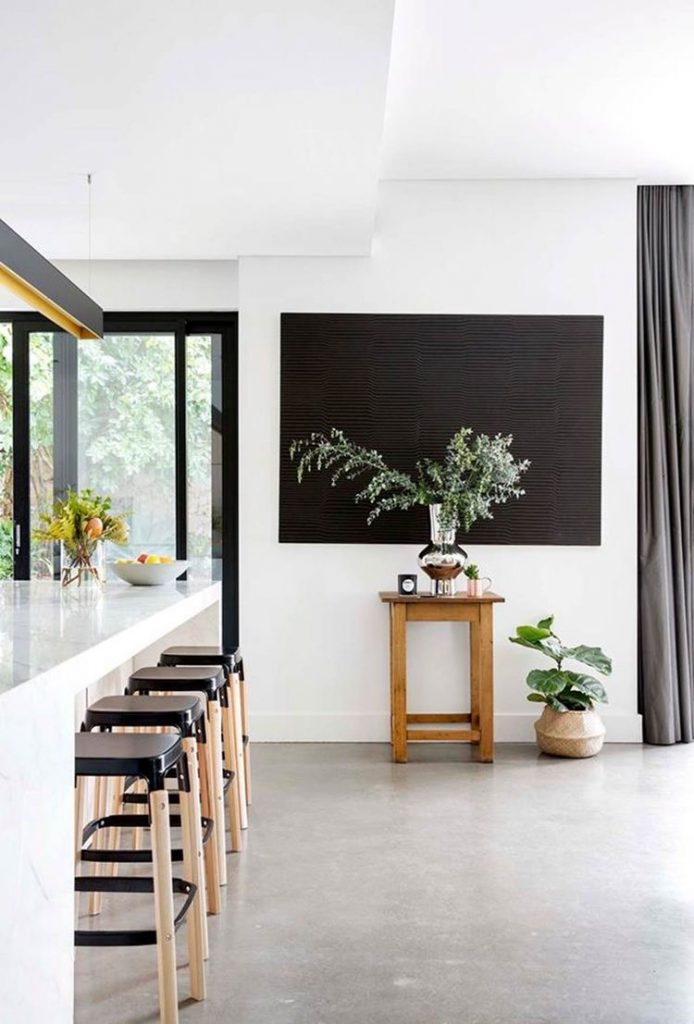 Other Cons:
Due to the weight of concrete floors, they are only suitable to be used on ground floors and your foundations must be strong enough to bear the weight of your flooring. This shouldn't be an issue for most people, but it will be layout dependent on your home, as your concrete floors will be most likely in your living and dining spaces.
If you're considering having polished concrete in your bathroom, be mindful that there will be no grout lines, so will give you a sleek look, however be mindful that wet highly polished floors can be very slippery. Speak to your installer about adding some texture when they are standing to minimise this.
Polished concrete floors can take longer to install compared to laminate or timber flooring. Most houses take around 7 days to complete.
If you are installing in an established home, it is recommended that you move out whilst it is installed. It is very noisy, messy and dusty. If they are being installed in an area that you need to access regularly, you won't have an option but to relocate for a week or so.