How To Clean A Shower Screen So It Is Spotless
It's the job that we all love to hate and sometimes it can be a constant battle to get that perfectly clean shower screen that has no haziness and is sparkling clean. If you're looking for an article on how to clean a shower screen, this article is for you.
The problem is that through constant use of hard water and soap, this can eventually cause a buildup of residue on glass shower screens if not routinely cleaned. This will eventually lead to permanent damage if not looked after ( this of course is the last thing you will want).
For some people, it can often feel like whatever they try and do to clean their shower screen so that it is spotless, it just isn't working. Residue build-up is often stubborn to get rid of, which in turn can leave your bathroom looking grubby and unappealing.
Luckily, there are many cleaning products on the market that can help with your shower screen, but many household products that you already have at home will work just as well, if not better. In this blog, we offer shower screen cleaning tips and some of the best ways to help make your shower glass spotlessly clean – Let's dive in!
Some of the best shower screen cleaners are:
You can clean a shower screen with a specialist shower screen cleaner or some effective natural alternatives. While no two people will agree on which is the best way to do it, there are many ways of getting hard water and calcium deposits off a shower screen. Some methods however include the following:
Vinegar
Lemon Juice
Bicarbonate of soda
Dishwashing Liquid
Fabric Softener
What Do You Need To Clean Your Shower Screen?
As mentioned, over time, soap scum, limescale and mineral deposits build up, so regardless of how bad your shower screen currently is, the sooner you take action, the easier it will be to clean and maintain on an ongoing basis.

Shower Screen Cleaner Supplies Needed:
Your Choice Of Cleaner (Vinegar Spray, Lemon Juice, Baking Soda, DIshwasher Liquid, Fabric Softener)
Cloth or Towel
A Scrub or a Sponge

Shower Screen Cleaner Tip #1 – Vinegar Spray
White vinegar in a spray bottle is a very easy cleaning solution. You may want to dilute the vinegar with water (50/50 ratio) if the vinegar on its own is too strong for your liking.
Spray the solution over the glass, ensuring that you give it a good soaking. Leave the vinegar for 5-10 minutes and then using a soft brush or sponge, gently scrub the shower screen.
Rinse thoroughly with warm water until all of the solution has been washed away and then use paper towels to dry the glass or leave it to dry naturally.
Shower Screen Cleaner – Tip #2 – Lemon Juice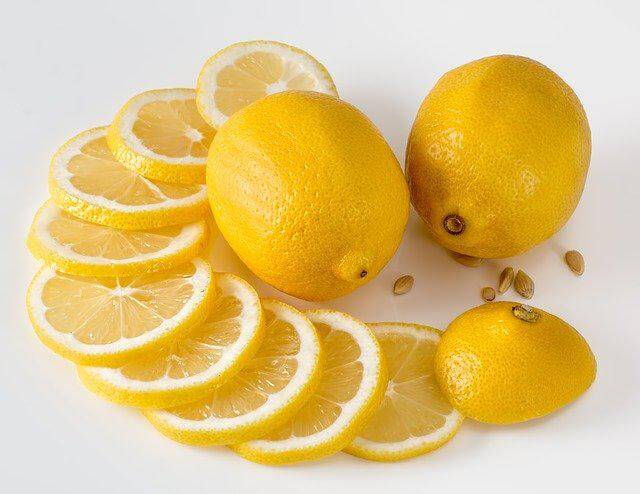 To keep your shower screen clean naturally, using fresh lemon juice (or bottled as a cheaper alternative) is another effective method.
spray directly onto the shower screen, focusing on built-up areas.
Lightly wet a soft sponge and use this to rub over the entire surface.
It's important to use a soft sponge so you don't damage or scratch your glass.
Once you have rubbed over the glass, rinse the juice away with warm water.
You may also wish to spray with white vinegar prior to rinsing with water.
Shower Screen Cleaner – Tip #3 – Baking Soda
It's the ingredient that we often have stored at the back of the cupboard yet rarely use! It's also in fact, a great way to clean your shower screen and can also help deodorize your bathroom – win win!
Using baking soda and a little bit of water, mix together to make a thick paste.
Using a damp sponge or paper towel, rub the paste onto tougher stains, especially around the frame and door hinges.
Rinse as normal and allow to dry.
Shower Screen Cleaner – Tip #4 – Dishwashing Liquid
Add some dishwashing liquid to a coarse sponge and scrub the shower screen using water. Rinse with cold water.
Shower Screen Cleaner– Tip #5 – Fabric Softener
Mixing 1 cup of fabric softener in 1 litre of warm water is another great solution and actually makes a great shower screen cleaner. All you have to do is wipe the mixture onto the shower screens and then rinse it off the water. If you have dryer sheets handy, then we recommend using these too so you can wipe the surface for a clean sparkly finish.
Maintaining Your Shower Screen
Obviously, if you have mould in the corners of your shower or where your screen and tiles meet, then you may need to use harsher products to remove the mould. It's important that once shower screen cleaning begins, you maintain it for easier cleaning in the future.
Take time after each shower to wipe the shower down with a microfibre cloth or window squeegee, this will assist in keeping your shower cleaner for longer. If you do choose the microfibre option, ensure that you wash the towel on a regular basis and wring it out after each use.
How Often Should Shower Screen Cleaning Happen?
Since the shower screen will be in constant use, it is a good idea to clean your shower screen at least once a week.
By regularly keeping your clean shower screen clean, you can effectively prevent the build-up of limescale, soap scum and other grime from building up over time. If this does happen it may be harder to clean your shower screen.
Save yourself the hassle of this issue and consider clearing your shower screen a weekly thing.
Cleaning The Rest Of The Shower
Obviously, keeping the screen clean is only half of the problem. Once your shower glass is crystal clear again, you may start to notice other areas of your shower that need a good scrub or look dull.
While you don't have to clean the shower every day, if your drain cover needs a good clean, remove it and soak it in vinegar overnight and then give it a good rinse with warm water the following day. It will come up like new again.
If the actual shower frame itself needs to be cleaned and brought back to life, use a tablespoon of lemon juice combined with two tablespoons of salt and form a paste. Leave it to sit on the frame for 5 minutes and then gently scrub with a toothbrush. This will remove any built-up grime on the screen as well as clean any rust. Rinse your frame with water.