How much does it cost to install a pool?
Some would say, how long is a piece of string? There are many factors to consider when estimating the cost of installing a pool and if you want to be swimming by Summer, now is the perfect time to get the ball rolling.
Size and Features
A swimming pool installation cost can depend on a few things, the size of your pool and any extra features you choose to be added to your pool, such as lights, water feature or maybe even an adjoining spa. The second most expensive component of your install is the construction, do you require a crane to crane the pool shell in, or will it be a concrete pool? If you hit rock, your pool budget could easily go over by thousands of dollars.
When choosing the perfect size for your pool, you ultimately want to ensure that it is the right fit for your back or front yard. On average, every size you go up, you will be adding an additional $1,500 – $2,000.
If you have an unusual shape where you're hoping your pool will be installed, it may be worth considering a concrete pool. Usually it can be a little more expensive than a fibreglass pool, but you are able to design the pool in any shape you need. This can be ideal for a smaller area where you would like a pool but a stock standard size won't fit.
Average Swimming Pool Installation Cost
On average, most people spend approximately $45,000 – $50,000 on their fibreglass pool installation, including basic landscaping and fencing. However, if this isn't your budget, don't panic, there are cheaper alternatives on the market, but it means you will need to compromise on some factors.
To keep the price low, people usually choose a coloured pool shell, if you wanted to tile the interior of your pool, this can add an additional $10,000 – $15,000 to your final price. Glass beading can cost $5,000-$8,000.
Cheap Swimming Pool Alternatives
If you're happy with an above ground pool, you can easily purchase a decent sized pool for $20,000. You may also consider a swim spa, or a 'container pool'.
Swim Spa
Swim Spa's are a combination of a pool and spa and are reasonably priced. You're able to enjoy the benefits of a swimming pool as well as hydrotherapy. The cost of a swim spa pool can start from around $15,000 but can exceed up to over $30,000 depending on the features you want. It probably isn't the first choice for a family due to lack of space and the jets may not be ideal for children who are still learning to swim.
Container Pools
They offer a cost-effective solution, but it won't be the right fit for every family. These types of pools do not go into the ground; they require good airflow around them and are installed as an above ground pool. They also require a retaining wall in some cases, so that is an additional cost to the pool which you should keep in mind.
A container pool can be installed and used almost instantly, the pool needs a level surface to sit on, and comes complete with the filtration system you need. You will need an electrician to ensure that you have the correct setup for your power connection.
You can also move a container pool, so if you ever move house and decide to take it with you, it can be transported by truck.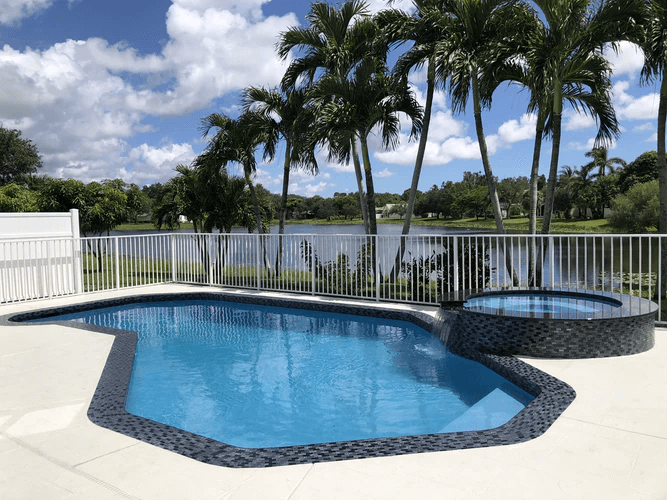 Where to next?
As you can see, there are a lot of options available to you when deciding what is the right pool for you and your budget.
When it comes to the cost of a pool, other factors you need to consider are the concrete beam surrounding the pool (some pool companies include this in their quote, others don't). In addition, are you going to concrete further around the pool and create a proper pool area? Or are you going to do a timber deck?
You also have the cost of landscaping and fencing, with fencing a legal requirement and you need to ensure that your pool and fencing comply with NSW standards.
It is important to check if the pool you're installing requires council approval, all in ground pools do, but some above ground pools don't. Regardless of the style of pool you have, it does require compliant fencing.
Additional Pool Tips
Houspect Can Help
If you need help and guidance on Sydney building inspections, Houspect in can help. Houspect can also arrange New Home Building Inspections and termite inspections in Sydney