Are your Strata properties in good health?
Just like having a healthy diet and exercise in your personal life is important, ensuring well maintained and "healthy" strata properties is essential for the continued well-being of the property owners and tenants in your Strata complexes
Insurance claims can be complicated by questions of what was weather damage and what was existing damage to the building, so owners and Strata Managers should ensure all repairs are up to date, and any maintenance required is reported to the body corporate.
Houspect have found on a few occasions when inspecting Strata properties that there have been certain issues where repairs were not made to leaking roofs and the result has been an extensive amount of damage and the roof repair bill being directed to the owners.
Conducting regular building and property maintenance reports for your Strata portfolios will give you an accurate indication of the current state of the property as well as ensuring your current maintenance schedule is effective. Special purpose reports can also be requested that include building advice as well as cost estimates.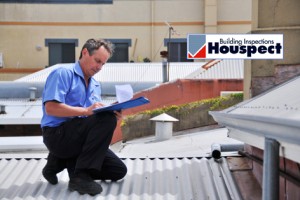 Although building materials used in buildings today are more durable than in the past, all buildings deteriorate over time. A regular building inspection and building condition survey by Houspect Building Inspections is highly recommended to identify issues before they become expensive to repair, structural in nature or life threatening.
Particular emphasis needs to be given to balconies and patios in all building inspections as there have been some instances of balcony collapses resulting in loss of life or serious injury.
On Strata properties, the need for a Strata Building Inspection is critical as the governing legislation requires all Strata Companies to "keep in good and serviceable repair, properly maintain and, where necessary, renew and replace." ( Section 35 of the Strata Titles 1985)
Houspect are experts with the knowledge, technical qualifications and experience to conduct professional building inspection services. We operate throughout Western Australia and other States and conduct Strata building inspections in Broome through to Albany and of course the Perth Metropolitan area.
A recent survey of a unit complex identified major structural problems with structural support posts to the stairs, landings and balconies. The steel supporting posts were rusted completed through in many areas meaning that the concrete stairs were self supporting and unstable.
The repair build could be in excess of $100,000. Had a building inspection been conducted regularly over the previous years, then the rusting to the steel support posts would have been identified and remedial actions proposed to treat the rust before it became a structural fault. The saving of many thousands of dollars would have resulted.
By having a building inspection today, Houspect will identify the often missed and neglected small issues that need to be treated to ensure they do not deteriorate into structural faults, as well as the major faults that are readily identifiable.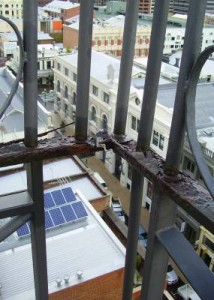 The most common faults Houspect come across are internal water leaks, cracking to internal or external structures, water penetration from outside, guttering faults, defective roof coverings, defective balcony balustrades. Another common fault is rusting. Generally any rust is a deterioration of the structural building element and requires immediate and regular treatment to stop the spread and further deterioration. Rust showing in concrete structures could be the rusting of the structural steel reinforcing. Referred to as "concrete cancer" this rusting is a serious structural defect and requires immediate action. Without early intervention, small repairs jobs costing hundreds of dollars quickly turn into major repairs costing many tens of thousands of dollars.
By ensuring regular maintenance checks and by engaging a Houspect qualified building expert to conduct regular building inspections you will ensure your portfolio of properties are kept in tip top condition .
Call our friendly service team at Houspect Building Inspections on
08 9240 8855
Or email
Buy, Build and Invest with Confidence