How to Build a Green Home
Going green and environmentally friendly houses is all the rage, from small home improvements designed to save energy to full-scale construction projects. Despite the overwhelming popularity of eco-friendly design and construction, property owners looking to build a green home often face significant hurdles in the form of confusion, misconceptions and misinformation.
Learning how to build a green home that will meet your family's needs while also meeting the needs of the environment isn't always easy, especially for those who have limited experience with home construction. Still, it's entirely possible to build the green home of your dreams; all you need is a bit of patience, the right team and a willingness to commit to some research.
Ideas For Building A Sustainable Home
When thinking about sustainable house ideas, why not consider incorporating some of these into your plan
Incorporate energy star windows into your new build
Use smart thermostats for home automation technology that allows you to remotely control and regulate the temperature of your home
Consider building a smaller home for improved efficiency, reduced maintenance costs and lower environmental impacts
Consider the use of solar energy
Use geothermal power
Rely on recycling materials
Use sustainable materials
Be strategic with your plot of land – plant and consider your own crops
Capture rainwater to conserve your water tank
A Truly Green Home: Avoid Misleading Marketing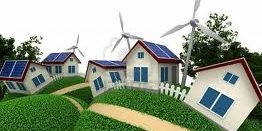 Because a green home building is becoming such a popular aspect of new construction and building design, it can be difficult for the average property owner to differentiate between practices that are actually eco-friendly homes and those which have benefited from careful marketing campaigns. "Greenwashing" is the practice of making traditional materials seem greener, more efficient or have less of an environmental impact than is actually the case.
The increase in mindful practices for green homes has created a much more focused movement but has also given rise to an industry shift in which products aren't always truthfully represented.
Green homes can help you reduce your family's energy usage, lower the costs of operating your home and help to protect the environment, but it's crucial to make the right choices during construction. You may even find that building green homes is less expensive than traditional methods, making your home a money-saving venture from the very start.
This will mean working with a builder who understands and is committed to green building practices, though, and choosing an efficient design. To avoid falling prey to misleading marketing which may leave your home no more energy-efficient than the traditional model next door, it's also wise to make sure a certain level of oversight and management is in place.
How New Construction Building Inspections Can Help For Eco Friendly Buildings
Working with builders and architects isn't always easy, especially if your knowledge of home building is limited and eco friendly buildings are no different. For many property owners who strive to build a greener home, working with a reputable building inspector is an ideal solution.
Building inspectors are a thoroughly neutral third party, which eliminates the possibility of conflicts of interest which can have a negative impact on your decisions for building a sustainable home.
These registered builders are experts within the building trade, which leaves them uniquely placed to evaluate your new construction plans, site and existing progress to ensure peak efficiency. Should you find yourself in disagreement with the builder you have chosen, a high-quality building inspection company will also be able to provide conflict resolution and dispute investigation services.
Because so many owners of new construction projects have limited building experience, a building inspector can be a valuable liaison and a great resource throughout the green home building process. Before you break ground on your new, eco-friendly home construction project, make sure you're getting what you expect by consulting a building inspector who understands green building.
New Home Building Inspections Perth
Houspect offers leading new home building inspections in Perth and surrounding areas. Get in touch with us if you need assistance in assessing your green home.
Perth Building Inspections– Buy, Build, Invest and Sell with Confidence
Tel : 08 9240 8855
Email : info.wa@houspect.com.au