If you are building a new home in WA one of the critical inspections along the construction journey is the inspection of brickwork as it is completed.
1      What are We Talking About?
In WA the vast majority of homes continue to be built with double brick walls, even though many exterior walls are now being rendered and or texture coated, at their core the walls are still double brick.
Often, completion of the brickwork is a significant milestone in the construction of a new home and hence is often associated with a progress payment claim by the builder.
2      So What is the Issue?
Ideally there should be no issue.
It can be very impressive watching a bricklayer lay brick after brick in rapid succession in seemingly perfect alignment. Good bricklayers are often in very high demand.
The brickwork is a core structural component of a home and hence it needs to be constructed correctly. It also determines the size and locations of:
Rooms, passage ways
Doors, windows other openings
Kitchen benches
So there is a host of items than need to be checked:
Brickwork

Has the correct bricks and mortar been used
Are the walls in the correct locations
Are the windows and doors in the correct locations
Are the joint types correct and
Is the bonding correct?
Bonding over openings, around lintels, at wall junctions
Has the reinforcing been installed
Feature recesses built
External features – sills, quoining etc
Stop off heights correct
Tie down straps installed correctly
Lintels correct
Check frame ties
Damp Proof flashings
Weep holes installed
Cavity insulation if applicable
General brickwork finish

 Associated Items

Frame sizes correct size, colour and orientation
Are frames clean
Protection to timber frames installed
Lift off hinges in WC's
Sill trays installed to sliding doors where required
Floors clean and scraped
3      Why is it Important?
Firstly, the brickwork is one of the key foundations of the home and it has to be right! Secondly, as one of the largest visual items, it must also look right! Bad brickwork looks bad! The positive news is that bad brickwork can be fixed, simply pull down the wall and start again. The key issue though is that you do not want to be doing this two weeks out from taking possession of the property.  Poor brickwork needs to be dealt with immediately. You do not want to leave it and allow other construction stages to pass it by.
4      When Do We Inspect the Brickwork?
We generally want to inspect the brickwork as soon as it is finished. Remember, in two storey homes we will need to inspect the lower level brick work and then return to inspect the upper level brickwork once it is completed. It is important that we inspect the brickwork prior to the construction proceeding to the next stage!
5       There Can't Be that Many Issues Can There?
Sadly, yes there can.  Here is a small selection of actual brickwork issues identified in WA over recent months in 2017.
5.1       Perpends Varying Widths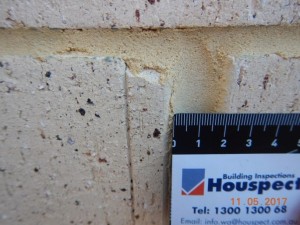 5.2       Bed Joints Varying Widths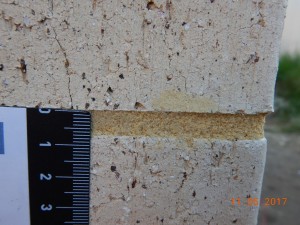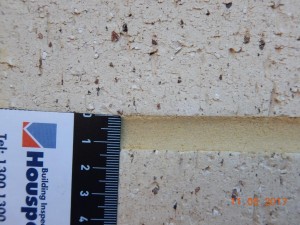 5.3       Varying Mortar Colours and Textures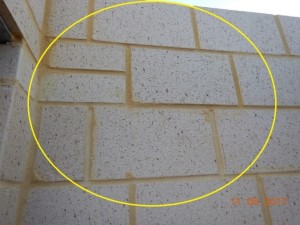 5.4       Drag Lines to Bricks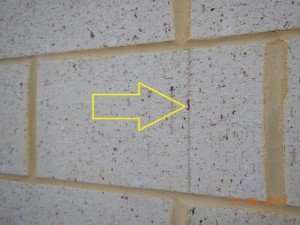 5.5       Mortar Joints Not Tooled Smooth and Consistent
5.6       Bed Joints Require Filling Before Plaster Applied
5.7       Bricks Missing / Loose
5.8       Pointing Required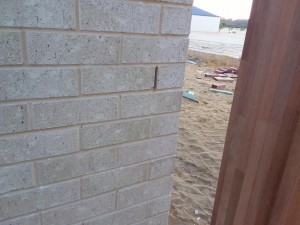 5.9       Flashing Missing
5.10     Cavity Wall Insulation Not Installed as Required
5.11     Window Not Centered as Per Plan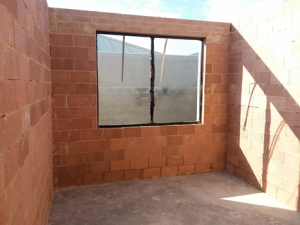 6      What is the Immediate Solution for People Building a New Home?
The simple solution is to have your brickwork checked by an independent Houspect Building Inspector. Armed with the Construction Plans, a good knowledge of the Building Code of Australia, Australian Standards and many years of experience, your Houspect Building Inspector can review the work undertaken on site so that you can be assured that the brickwork has been constructed as intended.
7      Can the Brickwork Inspection be Done at the Practical Completion or Handover Inspection?
It is possible to undertake a limited inspection of the brickwork at the Practical Completion or Handover Inspection but there can be limitations such as render, texture coat, plaster or paint may block visibility of key components. Some key elements may simply not be visible any more as they will be covered by subsequent construction stages. Finally, remediation of poor brickwork can take a considerable time and if  inspected at Practical Completion or Handover stages the actual handover of the property to you may be delayed by several months.
8      Summary
Brickwork is a really important structural and aesthetic part of your home.
There can be significant issues in the correct construction of brickwork.
The construction of roof frames is governed by the Building Code of Australia, Australian Standards and the Construction Plans specific for the individual property. These requirements need to be followed exactly.
Independent brickwork inspections by a Houspect Building Inspector are another set of qualified and experienced eyes reviewing the construction of a key element of your new home.
Brickwork inspections should be conducted during construction ideally, as each floor level of brickwork construction is completed and prior to the second floor slab being laid and or prior to the roof framing commencing.
Substandard brickwork can be fixed.
Speak to Houspect today about brickwork construction inspections or our end to end construction inspection packages which can support you through the entire construction of your new home.
Ph 9240 8855 Web: www.houspect.com.au/wa Email: enquiry@houspectwa.com.au
Build, Buy, Invest in property with confidence.