The Key Issues for WA Property Owners – Lateral Damp
Almost every week we undertake investigation inspections into water ingress in WA residential, strata and commercial properties. Often the issue is not rising damp but lateral damp and the solutions are often much simpler than you would expect.
1 What are we talking about?
In WA we predominantly live on a massive sand hill. The soils are very porous and water generally and quickly dissipates back down to the water table. That is why the majority of homes have soakwells installed on downpipes as this is the most efficient method of managing storm water. We fully appreciate that this is a generalist statement and there are parts of WA where the soil conditions are dramatically different where high clay content or solid rock presents unique challenges. There are also several regional areas where changes in environmental factors have resulted in rising water tables.
However, in the majority of sandy soil conditions, water will dissipate reasonably well unless the sand has been heavily compacted, alternative soils, plants and or mulches have been applied or the ground is covered in pavers or concrete. In these situations it is possible for water to pool or for rich soils to retain moisture. The challenge presents when these essentially wet surfaces are adjacent to porous brick and masonry walls.
A building's first line of defence is the water proofing barrier and or the damp proof course. These are the first lines of defence against water entering the building structure. The challenge presents when the source of moisture that can impact the building is higher than the waterproof barrier and or damp proof course. Examples of this can include:
Garden beds (soils, plants, mulches) located higher up against a building wall
Reticulation systems which direct water onto building walls
Pavements (brick paving and concrete) around building structures where the falls (levels) on the pavement do not direct stormwater away from the building but allow the water to pond or even worse, direct the water toward the building.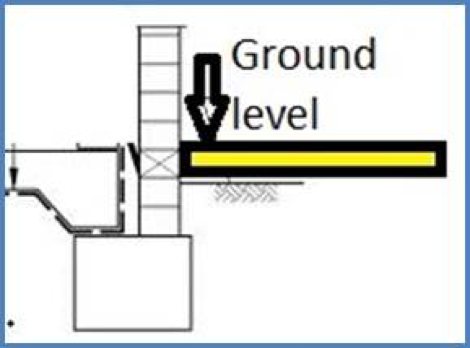 The next challenge is faulty roof plumbing. When gutters and down pipes are not regularly cleaned and maintained, the passage of water can be blocked. There are many cases when storm water will travel across eaves and enter the wall cavity. The water should be able to escape through the weep holes but often these important structures are non-existent or blocked by paving or garden beds.
2       How does it Work
Remember Mrs Marsh dropping the chalk into inky water in the famous toothpaste ad of 40 years ago where the chalk sucks in the inky water. Essentially this is capillary action. The source of moisture on one side of a masonry wall is likely to be drawn through the wall to the other side. In the most common double brick construction in WA, this capillary action can draw water all the way through to the internal wall.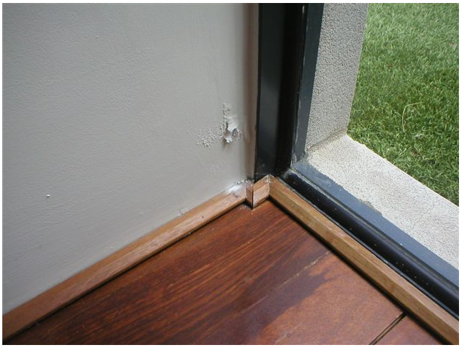 3      How do we Know When there is Moisture in the Walls?
Often you can simply see a myriad of different signs that there are elevated levels of moisture in a wall from fretting bricks and masonry, paint discoloration, deterioration, bubbling, pealing, and salts and efflorescent leaching from the wall. Houspect Building Inspectors all carry moisture meters and can use these devices to identify elevated moisture in walls.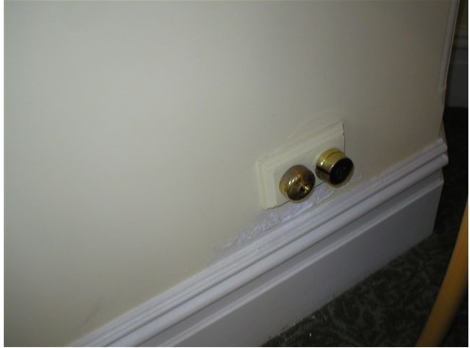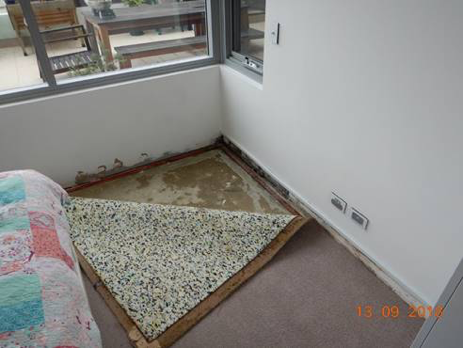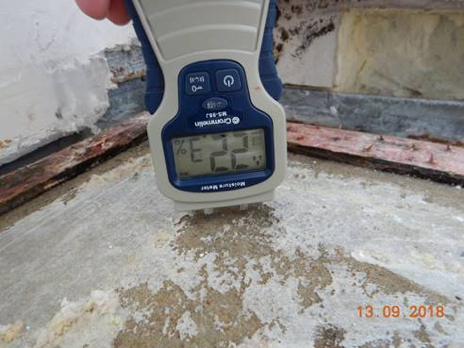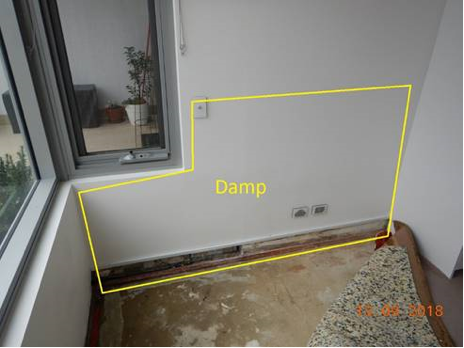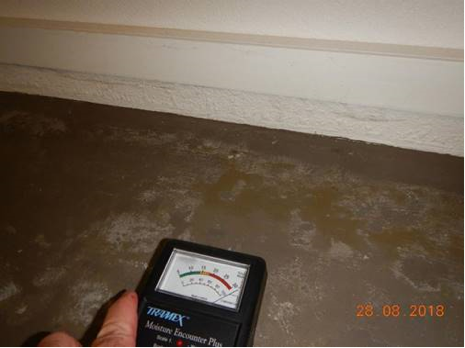 4      How can you avoid or resolve the problem?
Often the issue is really straight forward and prevention can be more cost effective than remediation. Remove the source of moisture!
Ensure sprinklers do not direct water onto building walls
Ensure moist soils, mulches and plant material is kept away from walls and footings
Ensure gutters, downpipes and roof plumbing is well maintained, kept clear and fully operational.
Ensure weep holes are kept clean and clear
If there is significant water ingress, then there can be a range of additional remediation methods to fix damaged walls beyond what is described above. The key point though is these issues will not fix themselves and if no action is taken the problem will only deteriorate. Water ingress is not an issue that you should allow to fester as mould will be the next issue you will need to address.
5       Water Ingress and Buying a New Home
Given concrete and masonry are porous it is not entirely surprising that water can be identified within external walls, where there is a source of water. Often when it is detected, property buyers will question if this is a structural defect which can be claimed against the seller. Water ingress through a concrete or masonry wall will almost never be a structural defect and hence if the REIWA clause is utilised in a pre-purchase building contract, a claim against the seller is unlikely to be successful. Moisture within a wall is unlikely to have such an adverse impact that it in itself would render the wall structurally defective. Over a period of time, the existence of water may cause fretting to the masonry, concrete or mortar which in turn may represent a structural defect, but in the first instance, high levels of moisture is unlikely to be a structural defect.
High levels of moisture entering a property through a wall can be a major non-structural defect which will need to be remediated.
6       Conclusion
Many property owners are often surprised to hear that water can be the biggest challenge in maintaining a building structure. Be it torrential rainfall, poor roof plumbing, ponding water at the base of walls, allowing water to enter a property can cause problems.
Prevention is often the best cure!
If you think you have lateral damp or water ingress issues and would like an independent inspection, then call Houspect WA.

September 2019
Build, Buy, Invest in property with confidence.  Ph 9240 8855 Web: www.houspect.com.au/wa Email: info.wa@houspectwa.com.au