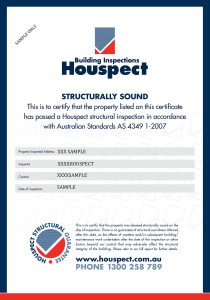 Selling a home can be almost as stressful and exciting as purchasing one, especially for first-time sellers who aren't sure what to expect from the process. Before placing your home on the market and waiting for the offers to start rolling in, it's important to consider all the ways you can help to facilitate a sale in the quickest, most efficient and profitable way possible. One way to help your real estate agent to seal the deal is to secure a building inspection report from a reputable provider who is a member of Master Builders Australia before you set your asking price.
Benefits of a Seller Home Inspection Report
Most informed and sensible buyers will seek a building inspection report before extending an offer of purchase on a home or property. This allows them to become aware of any potential defects or structural issues, to make a fair and reasonable offer and to ensure a sound financial investment.
Sellers who obtain a building inspection report have their own set of unique benefits. First and foremost, you'll be able to uncover and address any heretofore unknown structural problems and property defects before listing your home. If you choose to correct these problems, you'll show good faith and be able to defend your asking price with documentation from a professional inspector. Should you choose not to address the issues, you will be prepared to negotiate and adjust your asking price accordingly.
When major structural issues are discovered during a pre-purchase inspection, the findings of the building inspection report can have a substantial negative affect on a prospective buyer's perception of the property. Even if you were completely unaware of any hidden issues, their discovery can discourage prospective buyers who feel they've been mislead. A disclosed defect may not necessarily derail a promising sale if the prospective buyer enters into negotiations forewarned of the problems at hand.
Building Inspection Reports as Marketing Tools
Some prospective buyers may insist on obtaining their own home inspection report before making an offer on your home, but this doesn't mean the report you've obtained isn't a powerful marketing tool. Armed with the information in a stellar home inspection report, your real estate agent can confidently and truthfully extol the benefits of your beautiful, structurally sound home.
For motivated sellers who need to expedite the sales process, an existing and current building inspection report can help to facilitate the sale of your property with very little delay. The findings of a building inspection report can positively affect a buyer's perceptions of your property from the very first viewing, in turn motivating them to make a timely decision. Instead of waiting for a building inspector to evaluate your property at a buyer's request, with the inspection report already in hand, a seller can move the deal along quickly. With a home inspection report in place, buyers are able to make informed purchasing decisions while you defend your asking price, and they aren't faced with the expense of securing their own report. You'll eliminate the possibility of unpleasant surprises going into the final stretch of a sale, and you may also be able to reduce the amount of time your house spends on the market.
Houspect Building Inspections – Buy, Build, Invest and Sell with Confidence