Most houses have a dog, some more than one! But when you're working away from home, or the kids are at school and not able to give your pup attention, the last thing you want is to have a bored dog that starts frustrating the neighbours. You don't need to spend a fortune to create the ultimate 'dog backyard', we've compiled some brilliant dog yard ideas that will keep your dog happy and occupied for hours. Perfect for keeping active minds busy!
Sensory Garden
A specifically designed area to stimulate your dog's sense through the use of materials and textures, scents and heights. This is a good solution for dogs that may be nervous in a new environment as it can reduce stress and anxiety.
The use of calming plants such as rosemary and lavender can assist your pooch in remaining calm, especially if you're not home to reassure them. Make sure that there are no other plants in your yard that could harm your fur baby. Wooden stumps or ledges are the perfect way to encourage your dog's natural agility.
Use different textures such as grass, sand and woodchip for your DIY dog backyard, but avoid the use of gravel as this can be easily ingested by dogs and will cause them harm.
Agility Course
If you have the room, and have a particularly energetic puppy, then you want to look at ways to burn excess energy and what better way than their own personalised agility course.
It may take some practice and encouragement from you, but soon enough they will be able to tackle the course on their own. Include hoops for them to jump through and use PVC pipes to create jumps. The kids might have a play tunnel that they've outgrown (otherwise these can be purchased cost effectively). Your dog will have endless hours of fun running through the tunnel, to encourage them at the beginning, use treats throughout the tunnel and praise them when they come out at the end.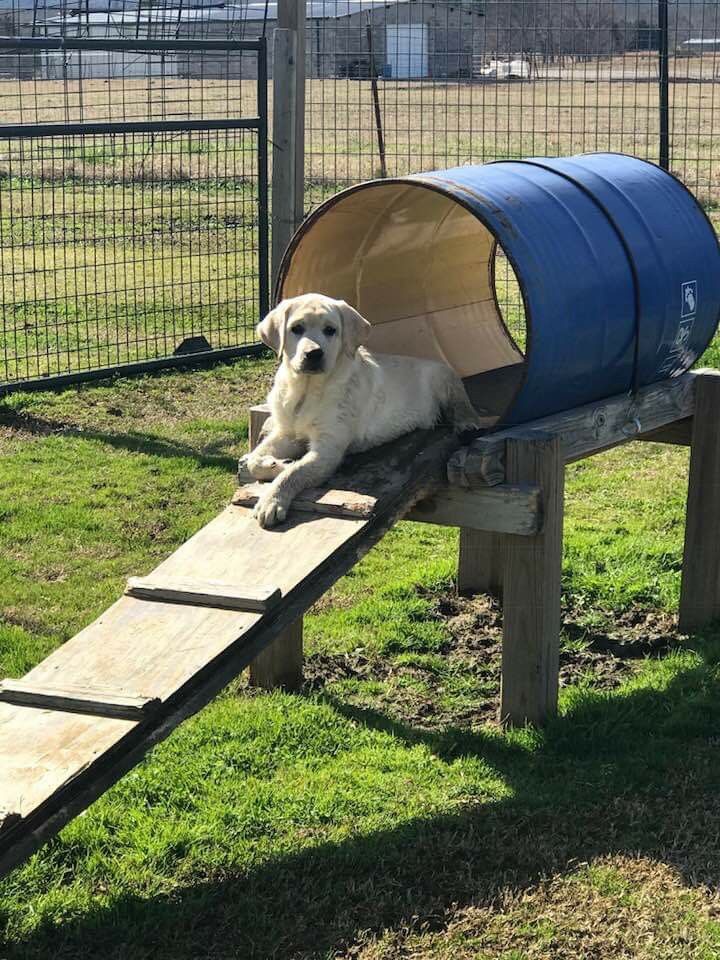 Water Play
Of course, this should be supervised, but many pooches love nothing more than to get wet (and roll around in the grass afterwards). If you've got a swimming pool, let them have a splash. If you don't have one, a kid's plastic pool shell is the perfect alternative for them to cool down in.
A sprinkler is another alternative, not only does it cool them down, but it also keeps their attention and stimulates their mind as they chase after the water!
DIY Dog Playground
If you want to go one step further than an agility course, then why not create an entire playground for dogs? Some pet owners with DIY know-how have built playgrounds for their dogs from wood that include ramps, swings, and a pool.
It's all about creating an exciting play area for your dogs to enjoy. Look to pair objects together such as ramps, pallets, and even their own outdoor kennel together so your dog can go from place to place with ease.
Digging Pit
Is your dog a digger? Who loves to dig everything in sight? Then a digging pit is just what you need! Just like kids who love to play in the sand, your pooch thinks it's pretty awesome too!
Bury dog treats in the sand to encourage digging in this area (and hopefully this means they will leave your plants alone).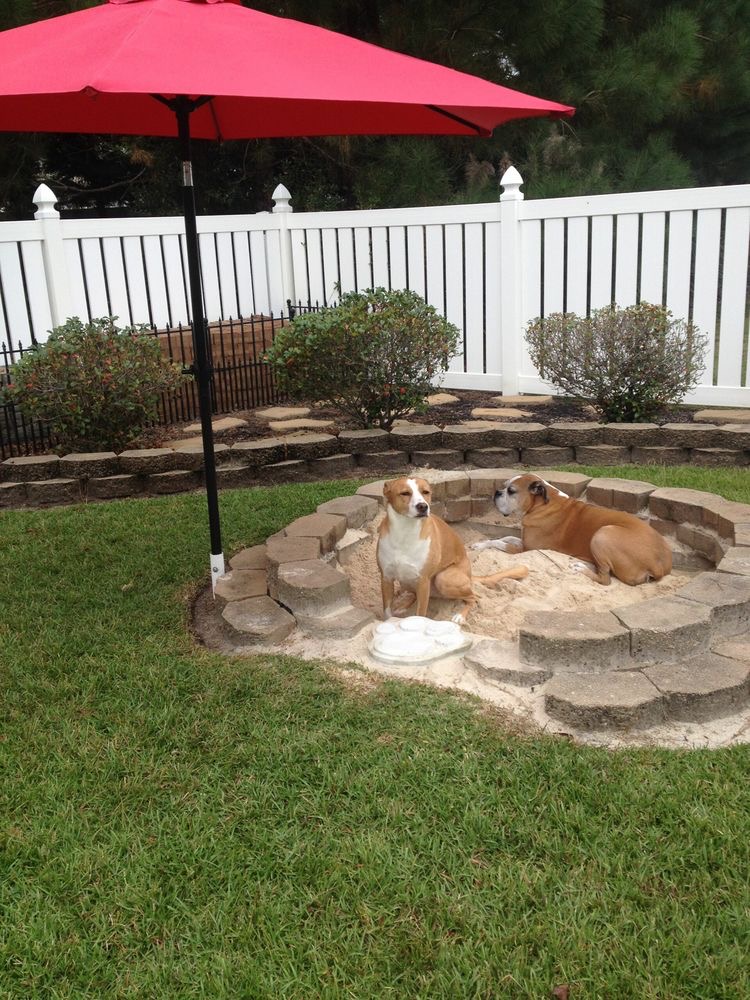 Pet-friendly backyard landscaping
If you're looking to create the perfect dog-friendly backyard as a backdrop for your pooch's fun, consider a few ideal landscaping choices for your pet.
Installing a fence is a basic way to allow your pup to exercise, while also adding privacy.
Your dog will have a natural desire to protect and patrol your home. If they are continually walking the same path, you may find that this will wear your grass away. Using dog-friendly materials to create a pathway will prevent general wear and tear on your grass.
Covered Area Whilst dogs love the warmth of the sun and you'll often find them soaking in the sun's rays, it's important that they have a covered area. Just like humans, dogs can suffer from heatstroke, sunburn and dehydration.
Providing shelter in your DIY dog yard is important, whether it's a covered patio area or large trees that provide shade. Plenty of fresh water is also important.
With dogs being an important part of any family, you want them to have a great outdoor space to keep them entertained and cure any boredom they may have. Hopefully, these tips have given you the motivation to start a DIY dog backyard transformation for your beloved pooch!
For more information on Houspect, or to book a building inspection Sydney service, call us on 1300 258 789, email us at info.nsw@houspect.com.au or complete our online enquiry form.