A swimming pool can create a whole other area of the home for your family to enjoy. There is nothing better than relaxing by a beautiful pool on a hot summer's day. However, it's imperative to ensure that you have the appropriate fencing to keep your family safe from accidents. There are many pool fence options available, and you need to consider what not only fits into your budget, but a fencing option that complies with fencing regulations.
Adding a fence does not only add to the aesthetic appeal of your pool areas, but it is also an important safety measure that is a legal requirement.
Pool fencing should maintain the feel and look of the outdoor space that you have, but most importantly, it should provide safety, especially for younger children. Below, we discuss different pool fence options available for you.
Pool Fence Types
Glass:
Glass pool fencing is one of the most common fences, you will find these in most homes. They are made of tempered glass, so highly unlikely to shatter, although it must be noted that in high temperatures, panels have been known to 'burst' and shatter. They are a safe fence as children cannot climb them.
You have the option of semi-frameless, which means that each glass panel is attached to posts which are installed into the ground. There are no top or bottom rails. The approximate cost of these is around $280 per metre.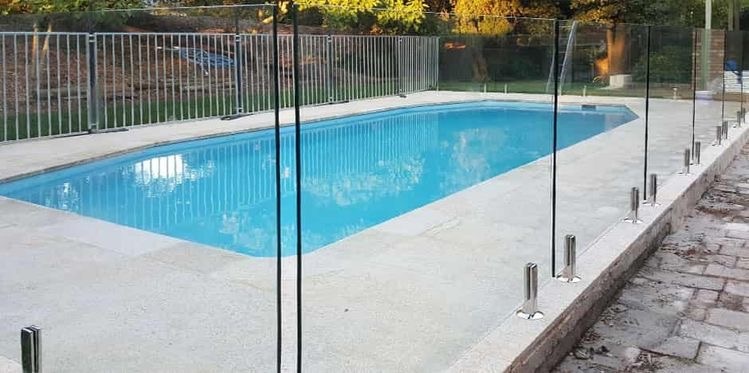 Frameless:
The difference between frameless and semi-frameless, is that no rails are used on a completely frameless fence. The glass is held together with clamps, creating space between the ground and glass, which allows for water and debris to flow through.
The estimated cost can be anywhere from $300 – $600 per metre.
All glass fencing still needs to be installed as per the government regulations for your state.
Wrought Iron:
Wrought Iron fencing is highly durable, low maintenance and provides a little more styling to your pool area as you're able to customize your final look. Designs can be welded into the fence's body, meaning if you're after something a little bit different than your traditional pool fence, this may be the option for you.
The cost for wrought iron starts at approximately $450 per metre.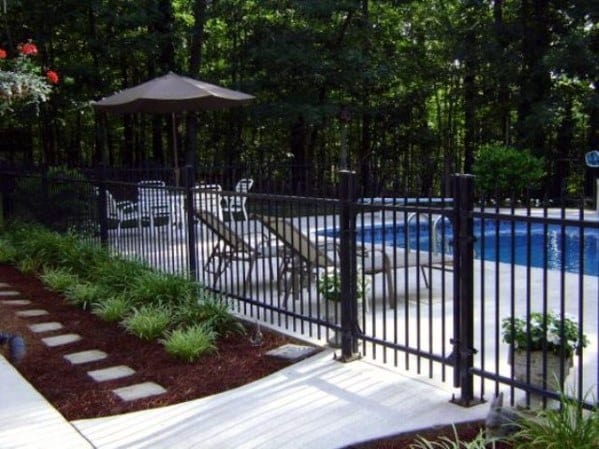 Steel:
Steel is not a fencing option that is common today, compared to maybe 15-20 years ago,
but it is a cost-effective option. Steel contains both iron and carbon and provides a durable long-lasting solution.
The cost for steel starts at approximately $65 per metre.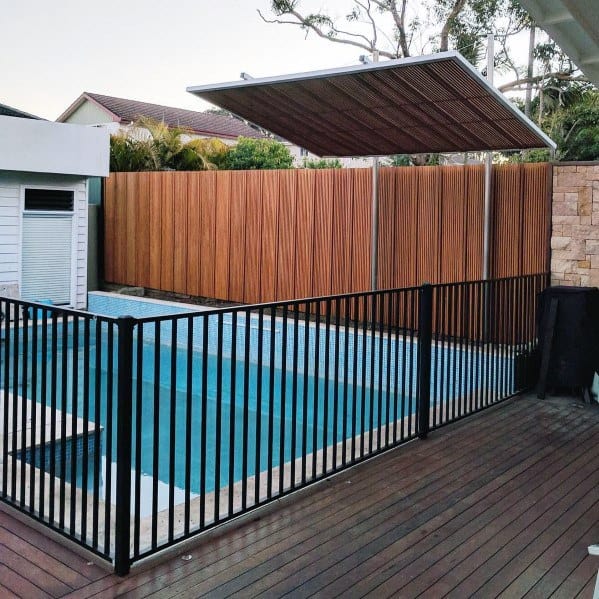 Aluminium:
The most cost-effective pooling fence solution, it has the look of steel and wrought iron, but is a lot more cost effective. Aluminium will not rust and is resistant to corrosion. It also proves to be a low maintenance option, only requiring to be hosed down every so often to keep clean. Prices start at approximately $60 per metre.
Requirements:
As always, regardless of your pool fence options, it's important that you comply with pool fencing regulations in your state. There are several requirements that you must meet prior to receiving your compliance certificate.
If you pool was built prior to August 1990, you must ensure that there is no access to the pool from the house, at all times. Windows and doors may form part of the barrier, but they must comply.
Between 1 August 1990 but prior to 1 July 2020, you must ensure that your pool is surrounded by a fence that separates the pool from your home. You may be eligible for an exemption based on the following:
· A property less than 230sqm
· A property over 5 acres (2 Hectares)
· A waterfront property
After 1 July 2010 all new pools must be surrounded by a fence that separates the pool from the house.
Fencing Requirements in NSW:
A pool fence must comply with the following:
Be at least 1.2m high (as measured from the finished ground level height)
Not leave a gap at the bottom bigger than 10cm from the finished ground level
If a boundary fence is part of the pool fence, the barrier must be 1.8m high
Not have gaps of more than 10cm between any vertical bars in the fence
If containing horizontal climbable bars, have these spaced at least 90cm apart
Perforated or mesh barriers must have holes no greater than 13mm for fence heights of 1.2m
Perforated or mesh barriers of 1.8m height with holes greater than 13mm must not exceed 100mm
The pool hence must be well maintained and in good working order
You need to ensure that there are no climbable objects where children can climb over the pool fence. This is called a 'non-climbable zone'.
Learn more about pool fence regulations here, otherwise for more useful tips, you can check out our blog.