With many homes and apartments lacking in storage space, it can be overwhelming trying to find a place for everything and also a struggle to find the space. We all know the endless battle of having a home that has too much 'stuff' and nowhere to put it!
In an ideal world, we would have a clutter-free home, clean surfaces and nothing out of place, but it's something that is not always achievable, sustainable or realistic.
We've thought outside the box and come up with a list of storage ideas and solutions that will use space that you would have never previously considered.
Pantry Organisation Ideas
If you have a small pantry, it's easy for grocery items to get lost right at the back and hard for you to know what you've got stored in there and all of a sudden you've purchased three of each!
A raised organizer is a really easy item that will make your pantry feel like it has more room and you're able to see what you've got in your pantry. You are able to fill it with things like cans or spices.
A spice rack, that spins is another cost-effective storage solution that allows easy access to spices and saves room. There are several stores that have plenty of reasonably priced storage solutions and ideas for your pantry, if you want to take your pantry space to the next level, glass or plastic containers are the perfect solutions for items such as rice, pasta and flour etc. Label each container which can be easily refilled when required. Small storage boxes are ideal for snacks, especially if you have younger kids, they can easily access snacks without making a huge mess in your pantry.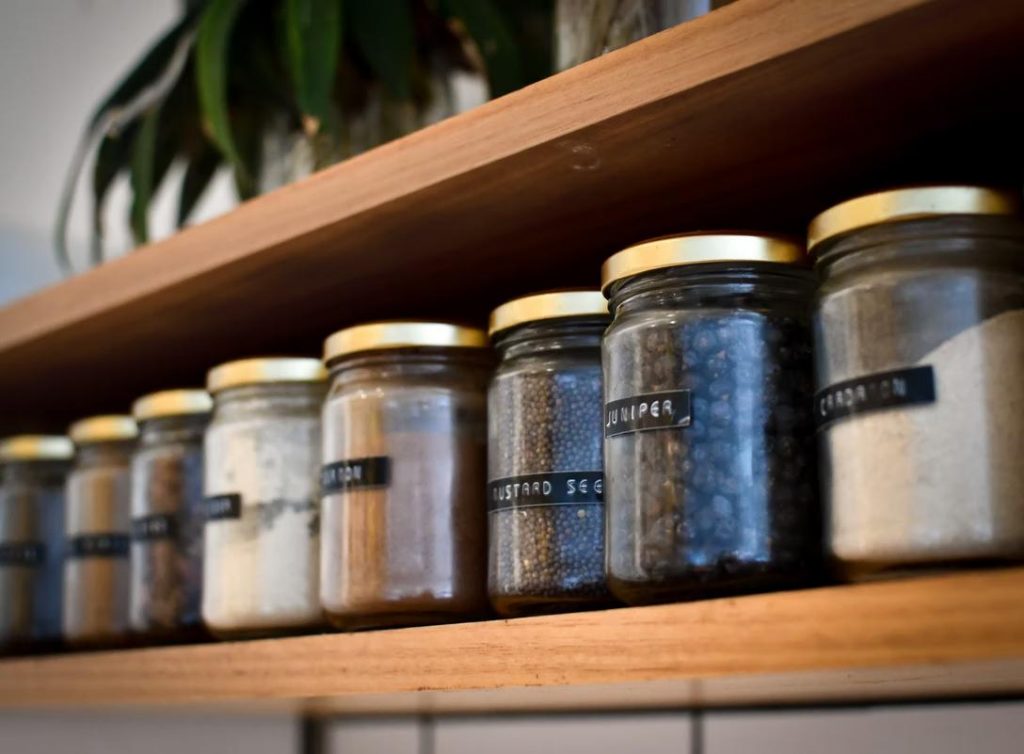 Magnetic Wall Organizer
If the inside of your pantry door isn't in use and you have enough room, a magnetic wall organizer is a great solution for extra storage. This will also work well on the side of your fridge if you have an exposed side.
It is ideal for things like paper towels, tea towels, food wrap, foil etc, all the things that are regularly used in a kitchen setting.
Closet Storage and Organizer
If you have cupboards in your bedrooms that don't have inbuilt shelving and drawers, consider purchasing a shelving organizer. They have four cubed storage boxes as well as hanging space that allow you to put items up off the floor and put away neatly. They are
cost-effective and long-lasting, especially if having a professionally installed system isn't within your budget.
Under-bed storage
Under-bed storage is something that isn't often thought about, but it's perfect for items that aren't used on a regular basis. Purchase under bed storage bins, which are on wheels, and are able to be easily glided out from under your bed. They are ideal to store things like blankets and doona's and on average you are able to fit 3-4 under each bed.
Under Stair Storage Ideas
Often under the stairs becomes a dumping ground (or Harry Potter's cupboard!) but utilized correctly, it can provide you with much needed additional storage and is perfect for boots, coats and other items. A local carpenter would be able to assist in installing a pull-out coat or shelving rack.
Under Sink Bathroom Storage
Free up your drawer and shelf space, by hanging appliance hooks (like 3M Hooks) on the inside of your vanity door. This will allow you to hang things like hair straighteners, curling wands and compact hair dryers. It keeps the cords neat and tidy, allows for more storage for other bathroom essentials, whilst making them easily accessible.
Storage Between Your Washer and Dryer
If you have your washer and dryer side by side, you will have a narrow unused space between the two. This is perfect for vertical pull-out shelving that can hold your laundry and cleaning supplies. If you have young children, consider a lockable cabinet to keep your children safe from nasty chemicals.
Laundry in a Cupboard
A laundry in a cupboard can mean a lack of storage space, but not always!
It's common to have one smaller shelf on the wall, but a longer slanting shelf, can make a huge difference when it comes to your laundry. The slanted shelf will hold laundry supplies, but more importantly, your laundry baskets, making them easy to store and easy to load your washing from your machine to the basket without having to use floor space.