Your roof is one of the most important architectural elements of your home. You want to ensure that you are choosing the right roofing option as your roof is first in line with the elements of harsh seasonal weather. The roofing material you choose ends up protecting the interiors of your home.
When choosing your roofing material, you will usually be given two options, traditional roofing tiles or roofing made from steel, more commonly known as Colorbond.
So, which is the best roofing option?
Both types of roofing are very popular options throughout New South Wales and often it does come down to personal preference, however, there are variations between the two products that are worth considering.
For many years, tiled roofs were the go-to option with Colorbond rarely getting a look in, but in more recent times, Colorbond has gained a positive reputation and rightly so, but when it comes to choosing what is best for your new home or renovation, it's important to consider budget, style, longevity and functionality, which you can only do when comparing the two products.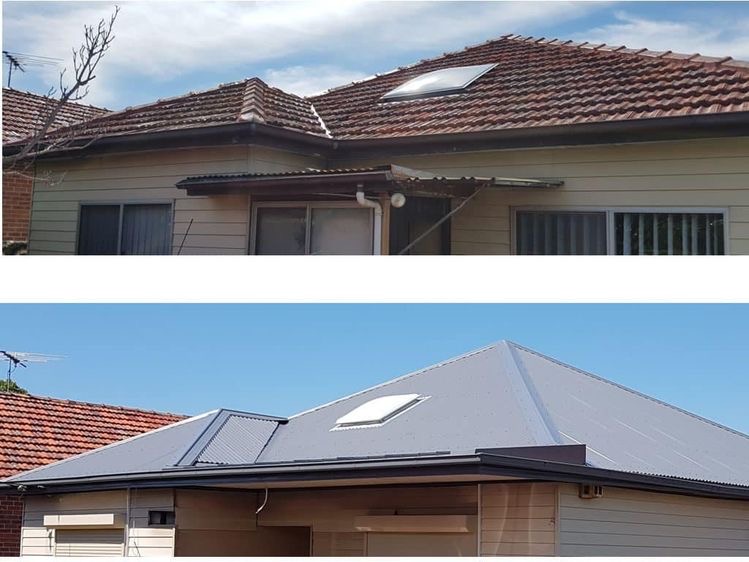 What is Colorbond Roofing?
Colorbond roofing is a steel roofing material that is coated. It has been tried and tested for many years, especially for Australian conditions, to ensure that it is long-lasting and resistant. You may have heard of corrugated iron roofing, essentially, Colorbond replaced that and become a far superior product. It provides a longer-lasting roof without the need for repainting or the risk of it corroding. Colorbond comes pre-painted and sealed.
Aside from the sleek appearance of Colorbond roofs, there is a range of colours available which can also be easily matched to your gutters and fascia. The use of Colorbond can dramatically increase the overall aesthetics of an older traditional home or can be stylish for a new home build.
Colorbond Resistance
Made from the highest quality grade steel, Colorbond roofing is made to meet Australian Standards and undergoes rigorous testing to ensure that it can withstand extreme Australian weather conditions.
Colorbond has five layers of protection, which includes a metal coating with enhanced corrosion as well as chipping resistance. Colorbond roofing is termite resistant, wind resistant and will also aid in bushfire protection. 'Resistant' is not to be mistaken with
guaranteed protection, it is important that you take further measures to try and prevent things like termites.
Maintenance of Colorbond
Colorbond is fairly low maintenance and highly resilient, but it is important to consider frequent cleaning of your Colourbond roof.
Colorbond and the Environment
If you have concerns about how your Colorbond roof may affect your thermal efficiency, and therefore your power bills, you will be pleased to learn that Colorbond roofing reflects more of the sun's heat, which should equate to less air conditioning use in Summer and will retain heat in winter to keep your house warm.
Tiled Roofing
Tile roofing has been a popular choice for many years. Made from concrete or terracotta, with the right maintenance, this type of roofing can last as long as 50+ years. If you live near the sea, you may choose a tiled roof over a Colourbond roof as they tend to be more durable for those that live in corrosive environments. Being made from heavy and robust materials, they offer protection from extreme wind and hailstorms.
Many manufactures offer a warranty of 30-40 years for a tiled roof, as long as they are regularly maintained.
Soundproofing
Given the thickness of each individual roof tile, you will find that they provide exceptional soundproofing compared to a Colourbond roof. Tiled roofs have excellent sound insulation.
Energy Efficiency
Like Colourbond roofing, tiled roofing also provides insulation, by absorbing the heat, whereas Colourbond reflects the heat away from the house. Roof tiles rely on solid and heavy thermal mass to provide a home with energy efficiency.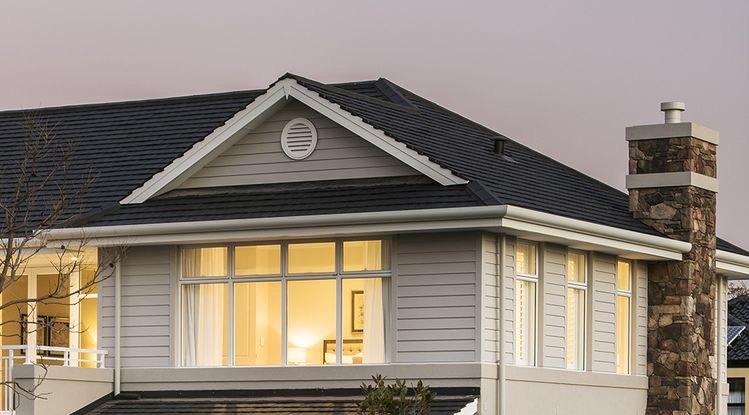 The Cost Between Both Roofing Products
It's hard to give an estimate as to what you will be paying for each product as there may be individual circumstances that will vary your costings.
However, there are some things to consider when it comes to cost. The actual metal roofing product will usually be more expensive overall compared to tiles. A metal roof is lighter than
a tiled roof, therefore, requires fewer support beams, which will reduce your cost for installation.
Colourbond roofs are quicker to install, which would reduce your labour costs.
Roof tiles will always be cheaper than Colourbond, but you also should consider your long-term maintenance and how much you will need to budget for repairs and maintenance.
As you can see, when it comes to comparing the two products, both provide exceptional roofing whilst also having their advantages and disadvantages.
It may simply come down to personal choice when making your final decision and what will best suit your house and design. Doing your research before making that final decision will provide you with the best roofing solution for your home. Ensure you speak to your builder as well to obtain their advice and expert knowledge.