DIY Checklist for House Sellers
In a tough property market many homes have a 'For Sale' sign planted in the lawn for much longer than vendors would like. Whilst industry groups like REIWA continue to manage consumer expectations and provide reassurance that the housing market will steadily improve, it's tough if you're preparing for yet another month with your property on the market.  One solution to improving the chances of selling your property quicker is a Houspect pre-listing or general maintenance inspection, which can both be used as great tools for selling your home.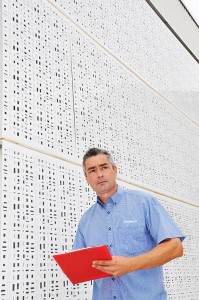 Buyers today have the option to be choosy. A pre-listing or general maintenance inspection will help homeowner vendors to catch repairs before they become bargaining chips.
In addition to the transaction going more smoothly, a pre-listing inspection ensures that real estate agents can enter negotiations with confidence regarding the quality of the homes they are selling on behalf of their vendors.  That confidence often equates to more dollars in the vendors' pocket.
Maintenance Checklist
To make sure your vendor's homes stands out from the crowd, consider using HOUSPECT's do it yourself inspection checklist, a helpful list of items around the house that should be evaluated and repaired if required.
Vendors need to think of their home as a machine, if one thing is off balance, everything else is compromised.
Outside Walls
Carefully inspect the walls to ensure that they are straight.Check for rotten weatherboards, windows, doors and verandah posts. Look for buckled, badly fitted or water stained eaves.
On the Roof
Lean your ladder against the guttering and look for a wavy roof line. Look for broken roof tiles and loose ridge and valley tiles. Check that corrugated iron sheets are in good condition and well nailed down. Ensure that valley and eaves guttering are free from holes and rust. Even small holes can create large leaks.
Under Timber Floors
Look under the floor for props or bricks holding up the floor instead of stumps, piers or dwarf walls. With timber stumps, look for stumps with the heaviest water stain.Inspect timber framing and floors generally for rot, mould and evidence of borers.Check to see that the earth is not excessively wet.Look carefully for termite 'shelter tubes'.
In the Roof Space
Look for sagging roof framing, cracked or broken tiles, rusty iron roofing and leaking ridges or valleys. Check for shoddy or damaged electrical wiring.  Do not touch! A pungent odour or rat-like droppings could indicate the presence of vermin. Note whether or not the ceiling has been insulated.
Concrete Floors
Although the underside of the concrete floors cannot be inspected check if there is any exposed perimeter to ensure that the plastic waterproofing membrane is not exposed.
Timber Floors
At regular intervals, jump lightly on the floor to detect any rotten floorboards, borer infestation or looseness in the floor framing.
Check to see if the floors are level, or there are gaps between floor and skirting. If stumps or piers are sinking, floors will always fall
away from fireplaces or brick walls.
Walls
Check that walls are straight and true. Look for cracks and general movement and be particularly wary of freshly painted or wallpapered areas. Carefully inspect brick walls for signs of dampness. Look for cracks beside chimneys and look for doorways and windows that aren't square, or are jamming. Lightly tap walls and tiled surfaces with the handle of your screwdriver.
Ceilings
Check that ceilings are straight and true, and look for cracks or signs of movement at the cornices. Look for water stains and mould growth which could indicate excessive condensation or roof leaks.
Windows and Ventilators
Make sure that windows can be opened and check for broken window panes. Check for excessive condensation and mould growth on windows and walls.
Electrical Systems
Check that the light switches and power points work. If you are at all in doubt about the condition of the electrical system, you should have it checked by an expert.
Plumbing Systems
Check all plumbing fittings for cracks or leaks. Test the water pressure in hot and cold taps. Partially fill the bath or laundry tubs and observe whether or not the water drains away properly. Look for damp ground in the vicinity of the drains. Check for dampness and soft soil where down pipes meet the ground.
General
Examine the house for appropriate room layout, orientation to the sun, views, relation to neighbours, traffic noise, and if not optimal, whether the house can be improved at an affordable cost.
Renovations and Extensions
If the house has recently been renovated, or if extensions have been carried out, check with the local Council to ensure that a building permit was obtained.  Illegal alterations could become your responsibility, particularly if they contravene the building regulations. If you are buying with a view to doing extensions in the future, check Council requirements for set-back distances, maximum site coverage and restrictions on types of construction.
You may need professional advice and Houspect will be happy to help. Call us now on 08 9240 8855 or Email us at info.wa@houspect.com.au or visit www.houspect.com.au/wa