Building a new home can be an exciting and enjoyable process. The number of decisions and choices can be endless in relation to all of the individual items to be installed in your new home. Often all of these decisions can put pressure on budgets and cost overruns can occur.
So in an environment where funds can be tight, it can be a big decision to invest further in independent staged construction inspections during the entire build for your new home. Why would you need to invest in having a Building Inspector/Registered Builder with 20 years' experience inspect your home during each significant stage of the construction when you are already employing a builder to do this?
The answer may be found in the WA Building Commission's ("Commission") own audit into the WA Construction industry. In 2014/15 and again in 2016, the Commission undertook its own audit of residential home constructions in WA. In the six months to 31 December 2016, 124 building inspections were conducted. Of these, 85 were building technical compliance audits and 39 were general inspections. During the 2016 inspections, 3,093 separate building elements were inspected, with 2,190 found to be satisfactory – which the Commission suggests is an overall positive rating of 71% or 68% in 2015/16.
So the above statistics are excellent if you are a part of the 71% (or 68% in 2014/15) of the properties inspected and found to be "satisfactory". However, this provides little confidence to the 29% or just under one third of homes which are not "satisfactory". If you are investing between $200,000 and several million dollars into a new home, most home owners would want some assurance that their home falls within the satisfactory category.
It is important to note that in WA there are almost no mandatory requirement for independent inspections of a home construction during or post build.  The cost-cutting environment that we now all live in, means the days of the local council inspecting what they approved for construction have long gone. In essence, the builder self-assesses the construction as they proceed. Some builders are excellent and produce exceptional quality homes, some not so much.
Just because there was a construction issue identified does not mean that the builder would not have independently rectified the issue but it clearly indicates that there are issues and their remediation needs to be closely monitored.
Are the issues associated with just one part of the construction process? No, the attached table extracted from the Commission report indicates that there are issues across the entire construction:

Or taken to the next level of detail: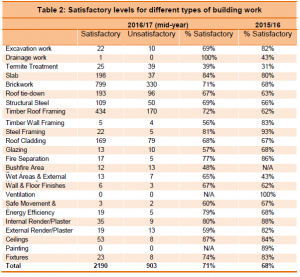 So the WA Government's own industry regulator acknowledges that there are challenges within the construction industry and that both they and industry participants are working to improve the position. However, for people building homes now, an immediate solution is required so as to protect their home investment.
The solution is Houspect WA's independent staged construction inspections. A Houspect Building Inspector can inspect the construction of your home at key stages throughout the entire construction and provide you with a report on how the construction is progressing and what issues your builder needs to address.  The key stages normally inspected include:
Slab Down (each level)
Walls to Plate Height (each level)
Roof On (each level)
Lock up and Water proofing
Practical Completion/Handover
Houspect recently surveyed the majority of its clients who had contracted Houspect to undertake multiple construction inspections during the build of their homes over the past 3 years. The average response from clients was 8.5 out of 10. The overwhelming view from clients was that Houspect independent staged construction inspections provided them with enormous comfort in knowing that the construction was progressing in accordance with the approved plans, Building Code of Australian and applicable Australian Standards.
For peace of mind, confidence and security during the construction of your new home contact Houspect WA.
Build, Buy, Invest in property with confidence. 
Ph 9240 8855 Web: www.houspect.com.au/wa Email: enquiry@houspectwa.com.au