Gutters are very important components of every roof. However, a common issue that many homeowners may have to face is a leaky gutter. Sagging and leaking gutters risk damage to your siding and foundation that can potentially cost a property owner thousands to repair.
In this blog, we offer gutter repair tips and show you how to fix leaking gutters. Depending on the issues with your gutters, this blog post will help you determine whether you're able to fix the leaking gutters yourself or if you require the assistance of a professional for your gutter fixing.Remember, these are basic gutter repair tips, so if you're not confident in identifying or fixing the issue yourself, seek the services of a professional who can help further.
Gutter Leak Causes And Gutter fixing Tips
Some of the most common issues that rain gutters often incur include leaking, sagging and overflowing, and even pooling. As gutters are vital to filtering out excess water, if damaged, rainwater can cause serious damage to the foundations of a property.
Here are some of the most common reasons along with solutions to consider for repairing gutters:
Your gutters are clogged up:
Debris such as leaves twigs and even birds nests can block your gutters. While some may not be an issue, this problem can build up over time.

Solution: Simply cleaning the debris should help resolve the issue.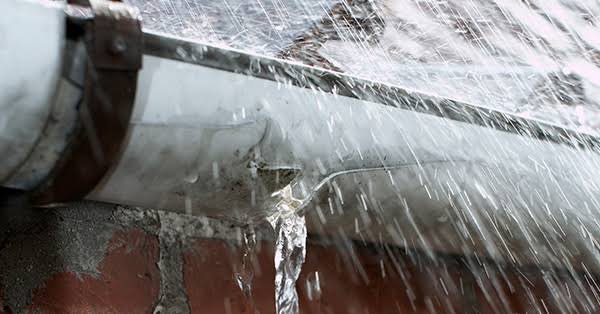 Loose Gutter Connections:
If the property is larger than the average building, then gutters may be cut to various lengths and sizes and then connected later on. Over time, the nuts and bolts may experience wear and tear. When this happens they may form loose connections.
Solution: Simply tighten or reattach loose gutter connections.
Holes in your gutters:
If you've found holes in your gutters, you can purchase weatherproofing tape, which may assist in repairing the holes and fixing the leak. Your local hardware shop will be able to recommend something suitable for you to use.
Solution: Remove debris from your gutter, and if you see any surface rust, it's important to try your best to scrape this away, we would recommend using a wire brush. Ensure that the area you are fixing is completely dry before applying the tape. Be sure that you read the instructions of the tape you purchase, some require multiple layers applied, whereas other brands only require one layer.
Leaking Joints:
It's very common to have leaking joints, especially as your gutters and downpipes start to age, the positive is that this is one of the easier issues to fix.
Solution: A silicone sealant is easy to apply as well as having the benefit of being a cost-effective solution to fixing leaking gutters at joints. Ensure that the area is completely dry prior to applying. Sealing leaking gutters around the joint, completely covering the exposed leaking area and allowing it to dry should fix the issue.
Sagging Gutters:
You might notice your gutters have started to sag, it could be an easy fix, such as bolts have come loose and need replacing, however, there may also be more to the issue. Check for wood rot, which can occur if the water is running to one side, causing excess water to flow into the gutter and pooling in a specific area.
Solution: If your roofing knowledge is limited, this is something that we would recommend you have a roofing specialist inspect. A bolt may be easy for you to replace, but something that wood rot is more in-depth and requires the advice of a professional.
Prevention is Always Better Than Cure
So there you have it, some top tips on how to fix leaking gutters. Like most things, however: the more the object is cared for, the longer it will last.
Gutters are exposed to endless weather elements 24/7, and even though they are made from hardy materials, they do wear down over time.
It's also important that you look at regular gutter cleaning and maintenance to prevent gutter damage, which in turn, will extend the lifespan of your gutters.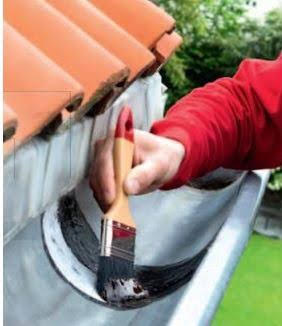 How to prevent gutter damage
Prevent gutter damage by doing regular cleaning, and if this is too hard for you to manage, consider arranging a professional to install a gutter guard, as this will stop debris from getting stuck and sitting there for prolonged periods of time. You can also engage the services of a professional to clean your roof and gutters with a high-pressure cleaner.
Water or debris that sit, will eventually cause rust, and the longer they are there, the quicker that rust will develop. Just because your gutter is flowing easily, it doesn't mean it doesn't need regular cleaning and maintenance.
If your gutters are blocked, this won't only cause damage to your gutters, but it may cause significant damage to your home as well, the water needs somewhere to go, and it's common for it to build up and soak in under your fascia board. If this is not fixed, it can lead to sagging roofs inside your home, this is something you want to avoid.
Where to seek further help
You may feel that you're not able to rectify your gutter issue without the help of a professional, or maybe you feel that your leak is more severe than what is mentioned above.
If this is the case, you will need to seek the services of a roof plumber. They will be able to quote for you, advise exactly what is wrong and how it is best to be fixed.
If you are attempting to repair any leaks on your own, please ensure that you use the correct safety measures when using ladders or are accessing your roof.
More Gutter Installation Tips
Gutter Installation Guide (How to Install Gutters The Right Way)