What are they and do they impact property owners and buyers?
1 What are we talking about?
The majority of homes in WA will have a plasterglass or gyprock internal ceiling unless there is another floor above, when the ceiling is likely to be the underside of the concrete slab. The ceilings need to be maintained as over time they can pull away from the timbers that support them (ceiling joists). In extreme examples, the ceilings can progress from simply sagging to collapsing.
2 How are ceilings attached to the ceiling joists
Older style plasterglass ceilings were general support to the ceiling joists via plasterglass straps that were placed from one side of the ceiling over the ceiling joists. These created strong bonds and would normally last for many years.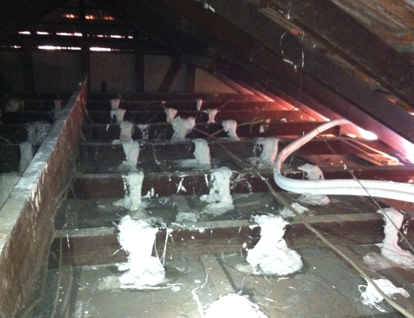 With new gyprock ceilings, the gyprock is normally glued to the ceiling joist and then fixings (screws) are driven through the underside of the ceiling into the ceiling joists.
Regular readers to our blogs will know that we wrote about issues associated with the fixing of ceilings that emerged during 2005 – 2008 where insufficient glues and fixings were being utilised resulting in an unusually large number of WA ceilings collapsing. Refer our previous article here.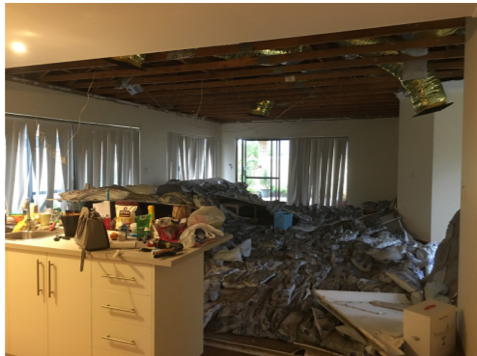 There can be a number of reasons why ceilings sag including but not limited to:
The ceiling joists are sagging
The ceilings have been damaged, often via water ingress and or storms
Addition weights have been placed on the ceilings or somebody has stood on the ceiling when walking in the roof space
The ceilings (plasterglass or gyprock) are pulling away from the ceiling joists because the straps, glue or fixings are or are starting to fail under the weight of the ceiling.
Whatever the reason, sagging ceilings will generally not fix themselves. Often the position will deteriorate until the ceiling collapses if they are not repaired.
4 What to avoid!
If a ceiling collapses in say a 40 year old home it will generally bring down the ceiling, the insulation, 40 years of dust and dirt, bugs and potentially the odd deceased rodent. In short, it will potentially be a substantial mess. You want to avoid this!
When you identify a ceiling that has started to sag you need to get a ceiling repairer into to fix the issue as soon as possible. It can be very difficult to determine how long a ceiling will last once it has started to sag, and hence to avoid the gamble and the substantial downside impacts, you should move to repair the ceilings as soon as possible.
5 How are sagging ceilings repaired?
The process is relatively straight forward. Dust, dirt and debris should be cleared away from the gap between the ceiling joist and the ceiling, the ceiling can then be repositioned and new straps or glue and fixings can be installed. Once repaired the ceiling can then be patched and painted.
In some situations, ceiling sheets or the entire ceiling within a room may need to be replaced.
The industry is quite competitive with a large number of companies offering to undertake repairs. Getting at least three quotes is always a good way of ensuring cost competitive repairs.
6 What is really scary!
Most insurance companies consider sagging ceilings to be a maintenance issue. That is, if you choose to ignore the signs that the ceiling needs maintenance work and the ceiling collapses then this is unlikely to be an insurable event. Most insurance companies will not pay claims for ceilings which have collapsed as a result of lack of maintenance.
Where a ceiling collapses as a result of an insurable event (storms, impacts, fire etc.) then most insurance companies will pay the claim.
7 Does this only impact old homes?
No. Sagging ceilings can be found in both new and old homes. Where a home is less than 6 years old in WA, generally the builders defect warranty period will cover the cost of repairs.
8 What about if I am selling or buying a home in WA?
Where a property is being purchased in accordance with the WA REIWA pre purchase building clause which is based on AS 4349.1, major structural defects will generally relate to the sub floor frame or concrete slab, load bearing walls and roof frames. The balance of the building elements are unlikely to be non-structural elements and this includes ceilings. Where issues with ceilings are identified in a home during a pre purchase building inspection:
For Sellers      If an issue with a sagging ceiling is identified in a property being sold it is unlikely to be a major structural defect requiring remediation by the seller, if the REIWA pre purchase building inspection clause has been utilised as the majority of issues with ceilings are not structural issues. 
For Buyers If an issue with a ceiling is identified in a property being purchased, it is unlikely to be a major structural defect requiring remediation by the seller, if the REIWA pre purchase building inspection clause has been utilised. The buyer should consider remediating the issue post settlement as it cannot be stated with certainty how long the ceiling will remain in situ. Sagging ceilings may be classed as a major non-structural defect or a serious safety hazard but either of these classifications may be insufficient to trigger the REIWA pre purchase building inspection clause.
The above views are consistent with those expressed by The Industry Association of Building and Property Inspectors in WA Inc. See here.
Readers should seek independent legal advice as appropriate on Contractual Clauses including the REIWA pre purchase building inspection clause.

December 2019
Build, Buy, Invest in property with confidence.
Ph 9240 8855 Web: www.houspect.com.au/wa Email: info.wa@houspectwa.com.au