Let us share the tale of two journeys!
Just imagine! You love the location of your home. You have just paid out over $150,000 for some spectacular renovations and your dreams are coming true.  Your family is very happy and you are exceptionally proud that you have negotiated your way through a significant build. Your relationship with your builder is solid and you would recommend them to your friends and family.
This scenario is a very real outcome and occurs every week in WA. WA has some very talented and quality builders who deliver world class product. This is what you wanted and what you expected.
This is how all dreams start but not always how they finish!
Just imagine! You love the location of your home. You have just paid out over $150,000 for some renovations that were only going to cost $75,000. You're starting to worry.  The renovations having been in progress for nine months, progress has slowed and the end is not in sight. The property is not water tight. Nobody is showing up for several weeks at a time and your builder continues to request extra payments. You have reviewed your limited paperwork and realise the price of the work is unclear despite the hundreds of emails. In fact, the much talked about contract was never finalised.  You have started to dig and the nightmare is just starting to emerge. Your "builder" is not actually a WA Registered Builder. The Council approval was never obtained nor were the required insurances implemented. You don't have a Contract. The last conversation ended with the builder hanging up on you. You are concerned that what has been built is not structurally sound and the water is pouring in through multiple leaks from the winter rains. Damage is occurring throughout your home. The stress is impacting your relationship with family and friends.
The above is a very real outcome and in the last two months of the 2018 financial year we were approached by three separate home owners who have suffered almost exactly the same outcome as that described above.
Nobody expects this outcome but it is very real and is happening here in Perth and Regional WA every month. The impact on individuals and families is devastating!
Often the solutions and safety nets that you would expect are just not there.
The key to protecting yourself is to ensure that the foundations of the safety nets are in place before the renovation or build becomes a reality. The following are the keys that every home must ensure are in place to protect themselves.
√ Is the Contract value between $7,500 and $500,000? If so, the Home Building Contracts Act of WA applies. Do not even think about progressing until you understand your rights and obligations under this Act!
√ Is the Contract Value in excess of $20,000! Your Builder must be a WA Registered Builder. Are they? Search and Check the Government Register of WA Builders
√ Has the contract Addenda been completed and have you signed off on all the plans? You have now been talking for several months and the pressure to start is immense. STOP. Do not start the journey until it is 100% clear on what is being built and exactly what is included and what needs to be excluded.
√ Is Council approval required and has it been obtained?
It is simple – call your Council or Local Shire. They deal with these issues every day and are a wealth of knowledge.
√ Is the schedule of payments clearly defined and are they consistent with the Home Building Contracts Act?
 A home building work contract cannot provide for a payment of a deposit prior to the commencement of work that exceeds 6.5 per cent of the total cost of the work. We have seen some Builders/Contractors that require deposits of between 25% and 50% upfront! This is just illegal!
Once work has commenced, any progress payment must only be for work actually performed or materials already supplied.
√ Contract Variations – any variation to a home building work contract is to be in writing, show the date and be signed by both parties, with a copy given to the home owner before the variation work commences. Is this understood by both parties?
So before you start the project make sure that the foundations of the safety net that you may need to call on, are in place. It can be very difficult if not impossible to retrofit these safety nets.
If you have got all of the above in place then proceed with confidence. If not, there are options available for you.
1. Pre Start Consultations with a Houspect WA Building Inspector
To improve your peace of mind and confidence in your renovations before you sign your renovation contract, why not meet with a Houspect WA Building Inspector? As a WA Registered Builder with a minimum of 20 years construction experience, your Houspect Building Inspector understands exactly what building blocks need to be in place and the level of detail required to support your contract and your build. So why not sit down for a one or two hour consultation prior to signing the contract to make sure all of the bases and safety nets for your new construction are in place.
2. Staged Construction Inspections Throughout Your Entire Build
At Houspect we regularly inspect new homes at every stage of the construction to ensure that the build progresses is in accordance with the approved plans, Building Code of Australia, Australian Standards and that the work is being carried out in a professional tradesman like manner. The same inspections can apply to renovations as they apply to new home constructions. Having your renovation inspected at every key stage can provide you with the confidence that the build stays on track!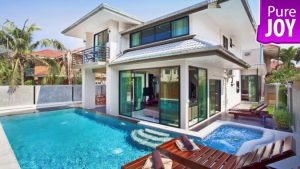 The renovation dream can be a reality, but home owners must help themselves by ensuring that the fundamental building blocks which are designed to provide protection are put in place before they start.  Sometimes a little bit of assistance and support can go a long way.
Build, Buy, Invest in property with confidence. 
Ph 9240 8855 Web: www.houspect.com.au/wa Email: enquiry@houspectwa.com.au