Knocking Down Internal Walls
Home designs have changed! We have moved from lots of little rooms in older style homes to big open plan living areas with few internal walls in newer homes. So if you own an older home, how hard can it be to simply knock down and removing internal walls? 
Knocking down internal walls has become a common part of home improvements/expansion and it is considered a cost-effective way of transforming a space without having to pay for an extension.
The Good News for Removing Internal Walls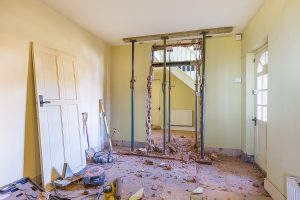 Most walls can be removed. But somebody needs to do the numbers to make sure the home does not come tumbling down when planning on an internal wall removal.
There are some really smart Engineers in WA who can assist you in determining what needs to be done to remove one or many walls within a home. They can calculate the loads and determine what needs to be done to keep the home-standing once a wall has been removed.  It's just not that hard to do it right!
So, yes – Many/most walls can be removed as long as it is done right and make sure the home does not come down as well!
The Rules
As we have seen in previous blogs, Building Permits (see here) are required when considering internal wall removal.
Essentially if you make a structural change to a residential home you should assume a building permit is required.  This is particularly relevant in the majority of WA homes which have a stick roof frame construction. It is not unusual that internal walls are utilised to support stick roof frames. 
Obtaining a building permit is not that difficult and there are a large range of suppliers who can assist in facilitating these requirements relatively easily. 
Essentially, plans need to be drawn up on both the current status and proposed status. Engineers need to sign off on the proposed plans and Council approval obtained. On small jobs, this can cost less than circa $1,500.
Where the value of the works exceeds $20,000 you will need to engage a WA Registered Builder, or become registered as an Owner Builder. Below this amount, the use of a Registered Builder is not required but the property owner assumes responsibility to ensure that the works have been undertaken in a compliant manner, including obtaining building permits as required.
Not Following the Rules 
There can be implications for note following the rules:
Will the alterations fail and parts of the building collapse? What if somebody is hurt?
What will be the impact on the building insurances as a result of unauthorised renovations?
What happens when you try and sell the property and the alterations are inspected? Will this impact the sale? Will you need to try and get retrospective council approval in a short period of time along with remediation works?
To Summarise 
So the bottom line is, going it alone and "renovating your property by knocking out potentially structural walls" without doing it correctly can be a costly mistake. In the long term, probably best to follow the rules. They are designed to protect you and your home. 
If you need someone to assess your home, Houspect offers leading building inspections in Perth and surrounding areas.
August 2020: Houspect WA : Build, Buy, Invest in property with confidence
Ph 9240 8855 Web: www.houspect.com.au/wa Email: info.wa@houspectwa.com.au