As building inspectors, we are regularly requested to undertake building investigation inspections to inspect moisture and mould in strata units and residential homes. The issue can be complex and the outcome can be frustrating to strata unit owners, strata companies and residential property owners.
Firstly, important to note that our building inspectors are all registered builders and not mould specialists. Our knowledge on mould is limited to knowing that moisture is often the pre requisite to mould which will develop if moisture is left unabated. Mould can lead to unhealthy living conditions.
1  Sources of Moisture
Given moisture is the key pre curser of mould it is important to try and determine the primary source of the moisture. It is important to understand that there may be more than one source of moisture and as such an iterative process of investigation and elimination may need to be employed.
Common sources of water ingress and moisture can include:
Water ingress from outside of the building into the apartment or house
Water ingress from apartments, balconies or wet areas located above the impacted area or apartment
Water ingress from wall cavities due to lack of weep holes
Water ingress from failed waterproofing within the apartment or house – I.e shower stalls
Moisture from condensation within the apartment or house through a lack of ventilation
2  Water Ingress from Outside of the Building Into the Apartment or House
Fundamentally properties are supposed to be essentially waterproof. However, on a regular basis we identify that water is making its way into a building. There can be a myriad of sources of water ingress including from the roof, roof plumbing, wall penetrations, poor sealing of windows and doors and such like. Where possible all of these items need to be investigated and the source of water ingress eliminated.
Moisture meters are a sound way of detecting the presence of water in building walls, ceilings and floors.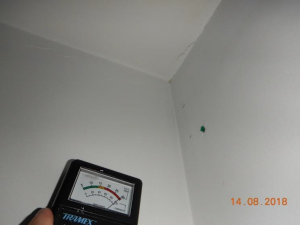 3  Water Ingress from Lack of Weep Holes
In structures with cavity masonry walls, weep holes are sometimes installed just above the slab on each level as well as above openings greater than 1. 2 meters such as doors and windows. The purpose of these weep holes is to allow water and moisture which has entered the cavity between the walls to escape. Where there are no weep holes or the weep holes are blocked, water cannot escape and as such the water may permeate through to the internal wall surfaces. See here for more details on weep holes.
Construction weep hole covers are often left in weep holes post construction and need to be removed.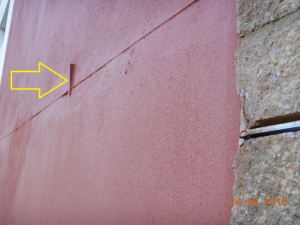 4  Water Ingress from Wet Areas or Balconies Located Above the Impacted Area
Within multi storey buildings, the source of water ingress can often be from an upper floor where failings in the waterproofing in wet areas above the impacted area can be the source of water ingress.  These failings can often be within the same residence for example, an upper floor bathroom or from an entirely separate apartment on the floor above the impacted property. Water ingress can also come from a failed waterproofing membrane on a balcony above the impacted area, once again from within the same property of from an entirely separate property or apartment.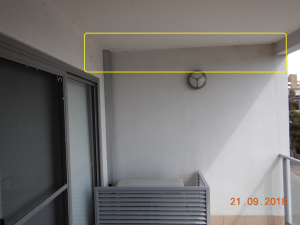 5  Water Ingress from Failed Waterproofing Within the Apartment or House – i.e. Shower Stalls
Occasionally water ingress within a property or apartment can result from water sources within a property or apartment. Apart from the obvious issues of leaking pipes and taps, failure of water proofing membranes in shower stalls can result in water ingress through masonry walls. If left long enough this can result in mould forming on the walls. See here for more details.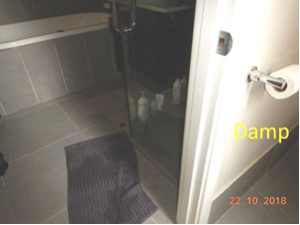 6  Moisture from Condensation and a Lack of Ventilation
Moisture and mould within a property or an apartment is often one of the most contentious issues for property and apartment owners. In essence, condensation in the air of a property can be caused from steam (showers, baths, cooking) or simply from one or multiple people breathing within a unit. For example, two people sleeping in an apartment bedroom during a cold winter's night can generate considerable condensate simply through breathing. This condensate will often settle on windows where the temperature differential between the air in the room and the external air will result in the water forming on the inside of the windows. When the window heats up in the morning the water will pool at the bottom of the windows. Over time the pooling of water can contribute to the formation of mould and or damage to wooden window sills.
Tumble dryers can generate considerable moisture in the air of the dwelling and lead to a build-up of moisture within the living areas if not correctly ventilated.
On a similar basis, hot showers can generate considerable steam, where the stream escapes the bathroom it can settle on colder windows and condensation can occur.
The key issue with the above examples is ventilation. Moist air needs to be replaced with air external of a similar temperature so as to stop the condensation forming on internal surfaces.
Venting a room can be via openings such as doors or windows to the external air or even venting can come from an adjoining room or via a mechanical vent (exhaust fan). When relying on an exhaust fan, it is important to ensure a source of replacement air is available to replace the air drawn by the mechanical vent.
6.1      What Does the Building Code of Australia Require in Relation to Venting?
The Building Code of Australia (BCA) requires rooms to be ventilated. Ventilation can come from a window, external door, adjoining room or mechanical exhaust. There are special rules to deal with ventilation of WC's.
The key challenge is that when ventilation is provided via a window or door, the window or door must be opened to provide that ventilation. The key challenge being that weather, security and privacy may all be solid reasons why a window may not be opened to provide the required ventilation, however the fact that the window or door is provided will generally absolve the builder form any further obligations.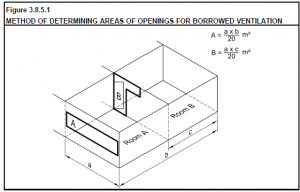 It is important to note that mechanical exhaust fans will often be installed in bathrooms as an additional form of ventilation to the primary venting source being a window or door. The challenge here being that the mechanical vent may not be sufficient on its own to properly vent the area, noting that there are no air volume turnover requirements in the BCA, where a room has access to ventilation from a window or door. Further, the key issue when a mechanical vent is used is to make sure that that there are sources of replacement air to replace the air removed by the mechanical vent. Once again this may necessitate having a window or door open.
6.2      Moisture and Mould from Poor Ventilation
The bottom line is that we see considerable moisture and mould issues associated with poor ventilation. In new apartments and residential houses there will often be a view that there is a fundamental construction defect which is directly contributing to the issue. While in some cases this may be the problem, more often than not it is as a result of poor ventilation management by the property occupants (windows and doors are not being opened and ceiling exhaust fans in bathrooms not been turned on when showering).
2  Moisture and Mould Can Lead to an Unhealthy Living Environment
As building inspectors, it is not our role to comment on health issues. We have seen some very real examples where mould has taken hold on available moisture and has created a very unhealthy living environment.
Where mould has started to form it is important that the issue is investigated immediately and that the source of moisture is eliminated as soon as possible.

8  What To Do?
Identify the source of moisture or water ingress and resolve as required. This may require:

Rectifying faulty water proofing
Repairing leaks, cracks or grout
Repairing roof plumbing
Sealing walls, windows and doors
Installing or clearing weep holes on exterior walls
Inspecting the rooms or apartments above the impacted area

If the issue relates to venting

Determine the source of venting and make sure it is operational and being used
Ensure windows and doors are regularly opened
Check and service mechanical vents. Make sure they are venting correctly and have a source of replacement air

Considered supplementary options including dehumidifiers
Where mould has established, consider using a mould removal specialist to treat the area.
9  In Summary
Water and moisture should not get into buildings. Despite the intent, water does get into both old and new buildings and this needs to be addressed so as to avoid mould forming.  Sometimes moisture and mould develop from within a building due to poor ventilation. Once again, property owners/occupants need to ensure that houses and apartments are property ventilated.
Where there is water ingress or a mould issue, a quality building investigation inspection from Houspect can assist in identifying the potential source of the water ingress and provide recommendations for remediation.
Houspect building inspectors are WA Registered Builders with a minimum of 20 years' experience. They understand how buildings are constructed and know how to hunt down sources of water ingress and ventilation issues. Once you have resolved the source of moisture, resolving the mould can then commence.
November 2018
Build, Buy, Invest in property with confidence.
Ph 9240 8855 Web: www.houspect.com.au/wa Email: enquiry@houspectwa.com.au