The WA Government has issued a reminder to WA property owners in regard the important maintenance of domestic hot water heaters.
Some quick checks and routine maintenance could have prevented the explosion of a storage water heater outside a home in Perth's north in 2018, according to Building and Energy inspectors who attended the site.
The incident is a timely reminder for owners of all storage water heaters – gas, electric and solar – to follow the recommended maintenance schedule, which usually involves simple checks every few months.
A 2018 explosion in a Yanchep former show home hot water system, split open the metal casing of the gas water heater, which had recently been sold and occupied.
Inspectors believe the water supply's high mineral content and infrequent use caused calcium to build up inside the unit, blocking the valves and preventing the thermostat from sensing the water temperature.
"This created a perfect storm where the water heater continued to heat up without the temperature safety controls kicking in, while the heated and pressurised water inside had nowhere to go," Building Commissioner and Director of Energy Safety Ken Bowron said.
"Fortunately, no one was injured and incidents such as this are rare. However, it is a reminder of the potential dangers and how to prevent them through simple checks, such as opening the valves for a few seconds every six months.
"We advise home owners to follow the maintenance instructions provided by the manufacturer, and contact a licensed plumbing contractor if they have any concerns."
1   What Do I Do?
Check the owner's manual for instructions on your particular system. Common maintenance recommendations include:
Every six months…gently open and close two levers on the unit's exterior: the expansion control valve and the temperature pressure relief valve.
Every 12 months…check the unit's built-in temperature controls are working by making sure the water coming from the nearest tap isn't too hot.
At least every five years…contact a licensed plumbing contractor to replace valves that control expansion, temperature and pressure. This may need to be done more frequently in hard water areas.
Around every five to 10 years…arrange for a qualified person to replace the anode to help to reduce corrosion. Different anodes suit different water types.
If you go away for a week or more… When you return, clear any hydrogen build-up by turning on a hot tap and checking the water runs freely (not spurting) before using any electrical appliances linked to the hot water system.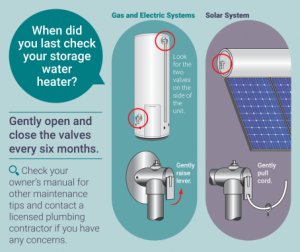 2   How Dangerous Can a Hot Water Heater Be?
The American show Mythbusters provided a very dramatic example of how substantive the pressure in hot water heater can be with the obvious potential dangers. Watch the video here.
3  Things that Can Cause Your Water Heater to Burst
3.1  Sediment Build-up
The problem: Over time, sediment (minerals from your hard water) settle at the bottom of your water heater's tank. This mineral layer insulates the water from the burner, forcing it to run longer to heat the water, causing it to overheat and deteriorate the tank.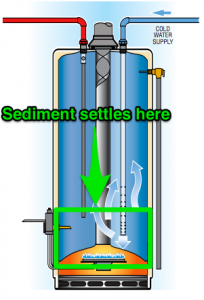 You have this problem if: Your water heater makes a popping, knocking noise. That noise is water trapped under the sediment bubbling up, trying to escape the sediment layer. It's like how boiling water pushes up a pot's top.
How to prevent: Firstly if you recognise these symptoms contact a WA Licenced Plumbing Contractor to inspect the hot water system. On an ongoing basis you need to flush and drain the tank of the sediment once a year.
3.2   Rust/Calcium Corroding the Tank
The problem: Your water heater is made of steel, which is mostly iron. Meaning that over time the water will cause the tank to rust.
Thankfully your water heater has an internal rust protection element: A "sacrificial" anode rod.
This 3-5 foot rod rusts in place of the tank (thus why it's a "sacrificial" anode rod). But once that rod deteriorates, your water heater rusting out will follow soon after.
You have this problem if: Your hot tap water is a brown, rusty color.
How to prevent: Have a plumber inspect the anode rod once every two years and at least annually once the warranty has expired. You'll probably change the anode rod once every 4-5 years—sooner still if you have a water softener.
3.3  Too Much Internal Pressure
The problem: If you blow enough air into a balloon, what happens?  POP!
Same thing happens to water heaters. If too much pressure builds in the tank, it will eventually spring a leak and burst.
And if the pressure gets really ridiculous, the tank actually explodes, becoming part bomb, part rocket.
Thankfully, your water heater prevents this problem using its T&P (temperature and pressure) relief valve. It opens up, releasing some of the water to keep the pressure down.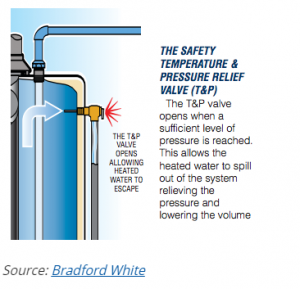 But even with the valve, all that extra pressure can wear down the tank over the years.
You have this problem if: Your water heater T&P valve keeps opening to release water. Also, if the T&P valve goes bad/starts leaking (which it will eventually), then pressure will continue to build in the tank, leading to a burst or explosion.
How to prevent: Have a plumber inspect the hot water system and ensure the water temperature is not set too high. When the water temperature is too high will potentially increase the pressure in the tank.
Also, test the T&P valve at least twice a year to make sure it can relieve your tank of pressure.
Source: https://plumbingtoday.biz/blog/3-things-that-can-cause-your-water-heater-to-burst
Need to know more?
If you have any concerns contact a WA Licenced Plumber to inspect and test your hot water heater.
Build, Buy, Invest in property with confidence. 
Ph 9240 8855 Web: www.houspect.com.au/wa Email: enquiry@houspectwa.com.au