Often WA external strata carparks are covered in asphalt and are a large visual component of the strata kerbside appeal.  Maintaining the carpark not only enhances the visual appeal of the strata complex but also is important to extend the life of the asphalt and structure of the carpark.   
1   What are We Talking About?
The structural integrity of the carpark is actually the compacted road based below the asphalt. This is what provides the strength, shape and form to the carpark and provides the basis of the required falls in the carpark to stormwater drainage. It can be argued that the asphalt is just the protective covering of the base structure, albeit a very important protective covering. Without the asphalt the base material would be broken down by wind, rain and traffic.
2    Asphalt vs Bitumen
Often these two names are used interchangeably but they are quite different as the following table demonstrates:
Asphalt
Bitumen
Lifespan
20 years plus
5 -10 years
Cost
More Expensive
Less Expensive
Finish
Smooth and fine
Coarser with exposed loose aggregate
Thickness
25 – 40 mm
10 – 20 mm
Noise Factor
Minimal
Noise occurs as stones get tracked by tyres
What is the difference?
Bitumen is actually the liquid binder that holds asphalt together. The term bitumen is often mistakenly used to describe asphalt.
Asphalt is produced in a plant that heats, dries and mixes aggregate, bitumen and sand into a composite mix. It is then applied through a paving machine on site as a solid material at a nominated or required thickness, relative to the end use. Asphalt results in a smoother and more durable surface than a bitumen-sealed road
A bitumen-sealed road has a layer of bitumen sprayed and then covered with an aggregate. This is then repeated to give a two-coat seal.
Sources:                https://www.asphalt.com.au/why-asphalt/bitumen-vs-asphalt/
https://www.bitumenandasphalt.com.au/blog/asphalt-driveway-what-you-need-to-know/
3 Maintenance for Strata Carparks
Asphalt carparks are expensive and need to be maintained to achieve their expected life. The following are key maintenance items:
3.1   Remove Stains
If you start to notice surface stains from leaves, spills, oil, etc. it is a good idea to clean stains as soon as possible.  Taking a hose and a brush regularly will help keep the driveway maintained.
3.2   Get Rid of Mildew, Grime and Dirt
This can start to build up on your driveway from water, pot plants, rusty pipes and daily use from cars.  To remove mildew and driveway mould it's recommended using a chlorine bleach and water mixture on it.  Wear proper protective equipment while doing this and leave the solution on the mildew for several minutes.  Next use a brush.
3.3   Sweep Regularly
Make sure to often sweep your driveway and carpark to keep it clean and looking it's best.  This is especially important after storms or wet weather. Commercial carpark cleaners every month or two are a solid option.
3.4    Apply Sealer
Some asphalt firms recommend applying a sealer to your driveway/carpark at least once every two years.  A high-quality sealer will help add resistance to stains and surface damage.
3.5  Repair Potholes and Cracking
See below
Source:  https://www.bitumenandasphalt.com.au/blog/asphalt-driveway-what-you-need-to-know/
3.6  Line Marking
Ensure strata carparks continue to be clearly defined so as to avoid issues between occupants, owners and visitors.
4  Potholes
Potholes are the most common issue associate with asphalt carparks and driveways. Keeping these at bay is very important.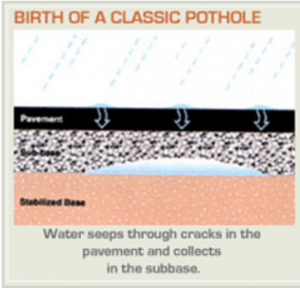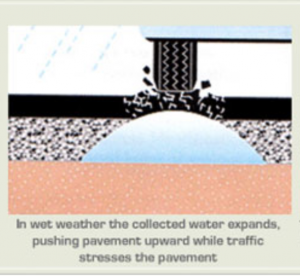 Because of the damage potholes can cause to the carpark base material, motor vehicles and a trip hazard to pedestrians, it is important that potholes are repaired as soon as they are identified.
Watch a pothole repairs video
Source: http://www.bitumenandasphalt.com.au/
5   Asphalt Cracking
Cracks in asphalt and bitumen pavements allow water and vegetation to penetrate the surface which causes pavement material failures. Failure to seal these cracks and remove vegetation will result in further cracking, potholes appearing and eventually a major pavement breakdown, leading to unnecessary expensive repairs.
To minimise the water infiltrating the pavement base, several firms recommend crack sealing with a hot polymer/rubberised bitumen sealant which can help to prevent future pavement problems and prolong the surface area before a full overlay or completely new surface is required.
Crack sealing can be an economical way of maintaining the carpark and driveway as it can be a cost effective repair when compared to undertaking other more extensive works such as resurfacing and reconstructing.
Watch their video
6   Strata Maintenance Planning in WA
The new WA strata legislation requires 10 year maintenance plans on the entire common property of a strata scheme.  For many strata schemes this will include the external asphalt carparks.
Asphalt strata carparks are expensive to build and the asphalt is a critical component in protecting the carpark substrate. Maintaining the carpark asphalt can be an important part of the strata maintenance plans.
Houspect has been preparing strata maintenance plans in Perth for 30 years. Contact Houspect WA for a quote on a 10 year maintenance plan.
November 2018
Build, Buy, Invest in property with confidence.
Ph 9240 8855 Web: www.houspect.com.au/wa Email: enquiry@houspectwa.com.au